Browse Items (8 total)
Tags: MacDonald, Kathleen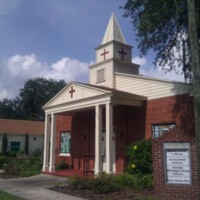 St. Paul Missionary Baptist Church, located at 813 Pine Avenue in Georgetown, an African-American community in Sanford, Florida, in 2011. Considered the oldest African-American Baptist church in Sanford, St. Paul Missionary Baptist Church was first…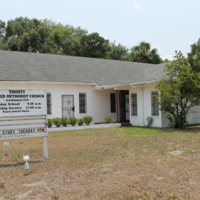 Trinity United Methodist Church (UMC), located at 526 South Sanford Avenue in Georgetown, an African-American community in Sanford, Florida, in 2011. Trinity UMC was originally named the New Mount Zion Colored Methodist Episcopal (CME) Church and…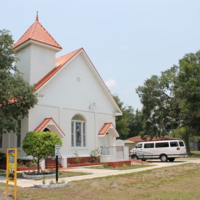 Zion Hope Missionary Baptist Church, located at 710 Orange Avenue in Georgetown, an African-American community in Sanford, Florida, in 2011. Zion Hope was founded in a brush arbor, under the leadership of Reverend Wash Levingston, on June 9, 1888.…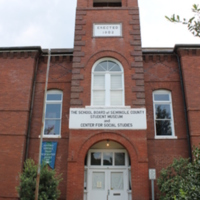 The Student Museum and Center for Social Studies, located at 301 West Seventh Street in Sanford, Florida, in 2011. The building was originally occupied by Sanford High School, which was established in 1902. The structure was designed by W. G. Talley…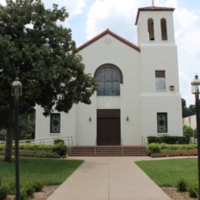 The All Souls Catholic Church, located at 800 South Oak Avenue in Sanford, Florida, in 2011. All Souls Catholic Church was founded by Father McFaul in 1882 and is one of the oldest Catholic parishes in Central Florida. The original church building…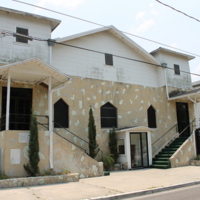 New Mount Calvary Missionary Baptist Church, located at 1115 West Twelfth Street in Goldsboro, an African-American community in Sanford, Florida, in 2011. New Mount was founded in 1918 by former members of the First Shiloh Missionary Baptist Church,…
Tags: 12th Street; African American; African-American church; Baptist; Baptist Church; Blackshere, A.; Board of Trustees; Brown, F. J. R.; church; Franklin, Thelma; Goldsboro; Johnson, R. M.; Knight, C. S.; MacDonald, Kathleen; McQueen, A. C.; New Mount Calvary Baptist Church; Pecan Avenue; Sanford; Simmons, C. L.; Spear, Prince W.; Thomas, J. T.; Trustee Board; Twelfth Street; Wilson, T. W.; Zachary, S. A.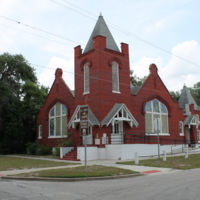 St. James African Methodist Episcopal (AME) Church, located at 819 Cypress Avenue in Sanford, Florida, in 2011. The history of St. James AME Church reaches far back into the history of Florida and the American Civil War. Immediately following the…
Tags: Ashley, W. A., Jr.; Ballard, W. B.; Brown, A. L.; Brown, W. H.; Byzantine architecture; Calhoun, W. F.; church; City of Sanford Historic Preservation Board; Coleman, S. H.; Constantinople; Constantinople, Byzantine Empire; Cypress Avenue; Everly F. E.; Fields, Raymond, Sr.; Gaines, T. T.; Georgetown; Gramling, J. K.; Green, Esther E.; Green, W. O.; Hamilton, W. L.; Harris, J. J.; Johnson, K. S.; Johnson, L. V.; MacDonald, Kathleen; Mack, A. J.; Methodism; Methodist; National Historic Landmark Program; Oliver, L. J.; Papino, Juanita; Prince Hall; Ravenna, Italy; Saint James African Methodist Episcopal Church; Saint James AME Church; Sanford; Sanford, Henry Shelton; Spears, Prince W.; Spivey, M. T.; Temple of Bacchus; Thigpen, R. A.; Tipp, G. R.; Warren, Dave; Williams, J. W.; Williams, T. J.; Wilson, E. C.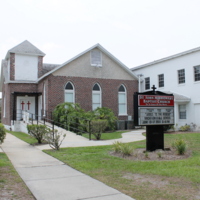 St. John Missionary Baptist Church, located at 920 Cypress Avenue in Georgetown, an African-American community in Sanford, Florida, in 2011. St. John was organized under the leadership of Reverend M. W. Evans on May 10, 1895. Within a few years, the…