Lake Mary Collection
Map this Collection in RICHES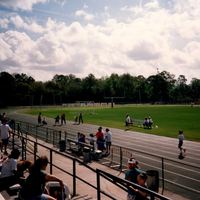 A Special Olympics track practice at Lake Mary High School, located at 655 Longwood Lake Mary Road in Lake Mary, Florida, on April 12, 1997. Lake Mary High first opened in 1981. From 2002 to 2006, the school has underwent a $20 million construction…
Dublin Core
Title
Lake Mary Collection
Alternative Title
Lake Mary Collection
Description
Collection of digital images, documents, and other records depicting the history of Lake Mary, Florida. Series descriptions are based on special topics, the majority of which students focused their metadata entries around.

The major lake in Lake Mary is named after J. F. Sundell's wife, Mary Sundell. The Sundells settled on the northern shore of Lake Mary and organized a Presbyterian church in 1894. As a citrus-producing village, Lake Mary consisted of two settlements, located along the railroad between Sanford and Orlando: Bent's Station and Belle Fontaine.

In 1882, Frank Evans migrated to the present-day Lake Mary area as a young boy. After retiring from his career as a circus entertainer for the Bailey Circus (prior to merging with P. T. Barnum's circus), Evans became a chemist. With profits from his dyed goods and textiles company, Evans constructed various commercial buildings, residential homes, and Lake Mary Elementary School. In 1923, he founded the Lake Mary Chamber of Commerce and was elected to the Seminole County Commission in 1926. On August 7, 1973, Lake Mary incorporated as a city.
Contributor
Coverage
Lake Mary, Florida
Digital Collection
External Reference
"
Lake Mary's History
." Lake Mary Museum, Lake Mary Historical Society. http://www.lakemaryhistory.org/History.htm.
Collection Tree