Hudson Collection
Dublin Core
Alternative Title
Hudson Collection
Description
Collection of digital images, documents, and other records depicting the history of Hudson, Florida. Series descriptions are based on special topics, the majority of which students focused their metadata entries around.

Around 1868, the first Euro-American settlers, which included Isaac Hudson and his family, arrived in the present-day Hudson area, naming it Hudson's Landing. In the early 20th century, the lumber industry began to grow with the arrival of the Fivay Company. In the late 1950s, the Army Corps of Engineers constructed 25 miles of canals, which served as transportation for new waterfront lots for many new residents to Hudson.
Contributor
Cepero, Nancy Lynn
Coverage
Hudson, Florida
Hudson Beach, Florida
Digital Collection
External Reference
Miller, Harry G. 
The Story of Hudson, Florida, From the Dim Past to a Bright Future
. [Hudson, Fla.]: Greater Hudson Area Chamber of Commerce, 1973.
Collection Items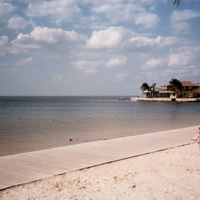 Hudson Beach, Florida, in May of 1991. Hudson Beach is located west of U.S. Route 19 and north of Port Richey in Pasco County. Before Hudson Beach was developed as a public beach in 1960, there was a small island located near present-day Harbor Drive…
View item
Collection Tree