Lake County Collection
Map this Collection in RICHES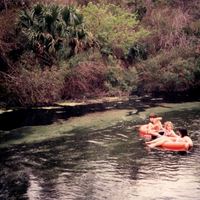 Three members of the Cepero family at Rock Springs Run State Reserve near Sorrento, Florida, in 1996. Photographed from left to right are Dennis Cepero (b. 1985), Laura Lynn Cepero (b. 1987), and Alicia Lynn Cepero (b. 1975). Rock Springs Run State…
Dublin Core
Title
Lake County Collection
Alternative Title
Lake County Collection
Subject
Lake County (Fla.)
Description
Collection of digital images, documents, and other records depicting the history of Lake County, Florida. Series descriptions are based on special topics, the majority of which students focused their metadata entries around.

Before the arrival European settlers, the present-day Lake County area was inhabited bu the Timucua tribe. In 1562, a colony of French Huguenots was established at present-day Astor, only to be wiped out by the Spanish in 1566.

In 1763, a trading post was established by James Spalding at Astor. The few remaining Seminoles in the area were forced to live on a reservation located in present-day Lake County due to the signing of the Treaty of Moultie Creek in 1823. Non-native settlement increased rapidly following the end of the Second Seminole War and the passage of the Armed Occupation Act.

Lake County was formerly established in July of 1887 from portions of Sumter County and Orange County. The county was so named due to its approximately 1,400 lakes within its boundaries. The citrus industry developed during the Great Depression.
Coverage
Lake County, Florida
Digital Collection
Collection Tree