Folk Collection
Dublin Core
Alternative Title
Folk Collection
Subject
Music--United States
Folk music--United States
Description
Collection of digital images, documents, and other records depicting the history of folk music in Central Florida. Series descriptions are based on special topics, the majority of which students focused their metadata entries around.

Folk music varies by country and region, but is typically described as acoustic-based music that embraces the life and struggles of the common man and the events of everyday life. "Folk" comes from the term "folklore," which was derived by William Thomas in 1846, to describe "the traditions, customs, and superstitions of the uncultured classes." Although the definition of folk music is elusive, the International Folk Music Council defines it as "the product of a musical tradition that has been evolved through the process of oral transmission. The factors that shape the tradition are: (1) continuity which links the present with the past; (2) variation which springs from the creative impulse of the individual or the group; and (3) selection by the community which determines the form or forms in which the music survives."

Before sound recording and reproduction allowed people to listen to recorded music, songs were often passed down through oral traditions, creating variants. Cecil Sharp, considered by many to be the founding father of the folklore revival in early 20th century England, believed that competing variants of a traditional folk song created a process of natural selection, eventually creating a more perfect version, shaped by the community. By the end of the 1930s, American folk music had become a social movement, and by the 1960s, folk genres varied as much as the definition of the term itself.

The Library of Congress attempted to capture as much North American field material as possible in the 1930s and 1940s, working through the vast collections of collectors such as Alan Lomax and Robert Winslow Gordon. On behalf of the Works Progress Administration (WPA), teams of writers and scholars across the United States collected materials about the places they saw and the people they met. Fieldworkers from the Florida Folklore Project, in conjunction with the Florida Federal Writers' Project, the Florida Music Project, and the Joint Committee on Folk Arts of the Work Projects Administration, concentrated on enclaves known for preserving ethnic traditions, documenting African-American, Arabic, Bahamian, British-American, Cuban, Greek, Italian, Minorcan, Seminole, and Slavic cultures throughout Florida. Florida is home to two significant folk festivals, including the annual Will McLean Music Festival, which is held at the Sertoma Youth Camp in Brooksville, Florida; and the Florida Folk Festival, an annual festival of music, food, and traditional arts to highlight and celebrate Florida's many folk cultures and traditions.
Contributor
Coverage
WUCF-TV, University of Central Florida, Orlando, Florida
Valencia College, Orlando, Florida
The Social, Downtown Orlando, Florida
Curator
Cepero, Laura
Cravero, Geoffrey
Digital Collection
External Reference
Collection Items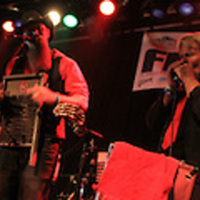 The Bloody Jug Band at The Social, located at 54 North Orange Avenue in Downtown Orlando, Florida, during the Florida Music Festival on April 26, 2014. The Florida Music Festival, or FMF, was founded by aXis Magazine & Promotions in 2002 as a…
Sandy Shugart became the President of Valencia College, one of the country's largest colleges, in 2000, and led them to win the prestigious Aspen Prize for Community College Excellence in 2011. As a folk artist and poet, Shugart believes these…
View all 2 items
Collection Tree