Vero Beach Collection
Dublin Core
Title
Vero Beach Collection
Alternative Title
Vero Collection
Subject
Vero Beach (Fla.)
Description
Vero Beach's most notable early settler was Henry T. Gifford, who built a home in 1887 near Vero's present-day City Hall. Vero was named because his wife, Sarah Gifford, suggested that the settlement be named after the Latin word meaning "to speak the truth."

In 1893, the Jacksonville, St. Augustine and Indian River Railroad laid tracks through Vero, causing growth in the town. In 1912, the Indian River Farms Company began a land reclamation project in present-day Indian River County. The Town of Vero was officially established the following year. Vero was incorporated as a city in 1919 and Indian River County was established in 1925, with Vero as the county seat. In that same year, Vero was re-incorporated as Vero Beach.

During World War II, Vero Beach experience a boom due to the establishment of Naval Air Station (NAS) Vero Beach northwest of the town. In 1947, NAS Vero Beach was selected as the Spring Training facility for the Brooklyn Dodgers. The naval air station is now the site of the Vero Beach Municipal Airport and the Vero Sports Village, formerly known as Dodgertown.
Contributor
Coverage
Vero Beach, Florida
Digital Collection
Collection Items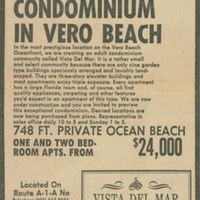 A newspaper advertisement for Vista Del Mar, an oceanfront adult condominium located at 5400 Florida State Road A1A in Vero Beach, Florida. According to the ad, which was published in 1974, real estate developers were planning an adult condo…
View item
Collection Tree