Chuluota Collection
Dublin Core
Title
Chuluota Collection
Alternative Title
Chuluota Collection
Subject
Seminole County (Fla.)
Description
Chuluota is a derivative of "Chuluoto," the Creek word meaning "Isle of Pines," "Pine Island," "Land of Lakes and Pines," or "beautiful place." Many of Chuluota's earliest American settlers migrated from North Carolina following the American Civil War. The settlement was first laid out by Henry Flagler's Chuluota Land Company as a competitor town to Orlando.

Chuluota's citrus industry suffered during the Great Freeze of 1894-1895, but the town was somewhat revived during the Florida land boom of the 1920s. Chuluota was again devastated by the Great Depression of the 1930s, but was revitalized during the 1950s and 1960s.
Contributor
Coverage
Chuluota, Florida
Digital Collection
External Reference
"
History of Chuluota.
" ChuluotaCommunity.com. http://www.chuluotacommunity.com/history-of-chuluota/.
Collection Items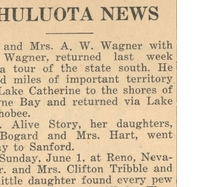 A newspaper article published by The Central Florida Press on June 20, 1930. The article reports news in Chuluota, an unincorporated community southeast of Oviedo, Florida. News topics include return of the Wagner family from their trip to South…

A newspaper article published by The Oviedo Outlook on May 26, 1977. The article describes the history of the Chuluota Baptist Church from its founding to 1977. The congregation's first services were held in November of 1874 in the home of W. C.…
View all 2 items
Collection Tree