Putnam County Collection
Map this Collection in RICHES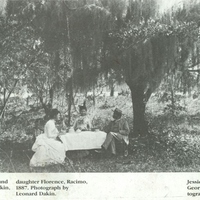 George W. B. Dakin with his daughter, Florence Dakin, and wife, Anna Marie Olcott Dakin, at the Racimo Plantation, an orange grove along the St. Johns River, in 1887. The caption incorrectly cites the name of Dakin's wife as Anne Maria Dakin…
Dublin Core
Title
Putnam County Collection
Alternative Title
Putnam County Collection
Subject
Putnam County (Fla.)
Description
Putnam County was created in 1849 from parts of St. Johns County, Alachua County, Orange County, Duval County, and Marion County. Putnam County was named in honor of Benjamin A. Putnam, who was a lawyer, state, legislator, and veteran of the First Seminole War. Putnam also served as the first president of the Florida Historical Society (FHS).
Contributor
Reagan, Bettye Jean Aulin
Is Part Of
Coverage
Putnam County, Florida
Contributing Project
Digital Collection
External Reference
"
A BRIEF HISTORY OF PALATKA
." Putnam County Historical Society. http://www.putnam-fl-historical-society.org/Historic/Historical%20Documents/PALHIST.html.
Collection Tree