Palm Beach Collection
Dublin Core
Title
Palm Beach Collection
Alternative Title
Palm Beach Collection
Subject
Palm Beach (Fla.)
Description
Palm Beach was first established in the 1890s when Henry Flagler (1830-1913) purchased land along Lake Worth to establish a resort and expanded his Florida East Coast Railway (FEC) to the area. The hub of the community centered around the Royal Poinciana Hotel and the Breakers Hotel. West Palm Beach was established nearby for hospitality and service works to reside. Palm Beach was officially incorporated as a town in 1911.

Contributor
Buck, Texann Ivy
Coverage
Palm Beach, Florida
Curator
Stoddard, James
Cepero, Laura
Digital Collection
External Reference
Marconi, Richard A., and Debi Murray.
Palm Beach
. Charleston, SC: Arcadia Pub., 2009.
Collection Items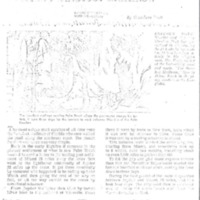 An excerpt written by Theodore Pratt and published in Florida Magazine. The article discusses how barefoot mailmen delivered letters sent from Palm Beach to Miami, Florida, in the late 19th century. This excerpt was originally published in Pratt's…
View item
Collection Tree