Kissimmee Collection
Dublin Core
Title
Kissimmee Collection
Alternative Title
Kissimmee Collection
Description
Collection of digital images, documents, and other records depicting the history of Kissimmee, Florida. Series descriptions are based on special topics, the majority of which students focused their metadata entries around.

During the 1700s, the Kissimmee area was inhabited by the Creeks and by African runaway slaves. The original Euro-American name of Kissimmee was Allendale, named so in honor of Confederate Major J. H. Allen, the operator of the first cargo steamboat along the Kissimmee River. The town served as a small trading post on the banks of Lake Tohopekaliga.

Following the Civil War, Hamilton Disston, the owner of Disston Saw Company of Philadelphia, Pennsylvania, purchased four million acres of land in the area at a total cost of $1 million. In 1881, Disston began to drain the area and deepen the Kissimmee River, thus allowing goods to be shipped into the Gulf of Mexico. When the city was incorporated in 1883, it was renamed Kissimmee.

During the 1920s, Kissimmee, as well as much of Florida, experienced a land boom. The citrus industry and the cattle industry flourished during the following decade. Kissimmee experienced later periods of growth in the 1950s and the 1970s, as a result of the opening of Walt Disney World.
Contributor
Cepero, Nancy Lynn
Coverage
Kissimmee, Florida
Digital Collection
External Reference
Collection Items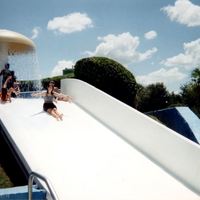 Alicia Lynn Cepero (b. 1975) on a water slide at Water Mania, a presently abandoned water park located at 4449 West U.S. Route 192 in Kissimmee, Florida. The 36-acre park was originally owned by brothers Gary Larson and Randy Larson and opened in…
View item
Collection Tree