Longwood Collection
Map this Collection in RICHES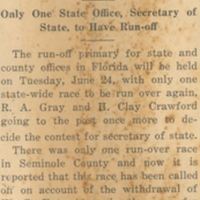 A newspaper article published by The Central Florida Press on June 20, 1930. The article discusses the runoff primary election for a state and county offices, which was held on June 24, 1930. The race for Florida Secretary of State was between Robert…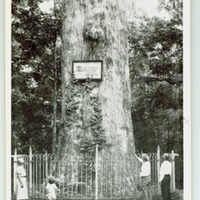 A photographic postcard featuring The Senator, the giant bald cypress tree that was once the oldest and largest cypress tree in the country. At the time that the photograph was taken, The Senator was 3,500 yers old, 126 feet and 3 inches tall, and 47…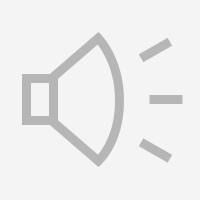 An oral history of Mary Carolyn Bistline (b. 1928), conducted by Stephanie Youngers on December 10, 2010. Bistline was born on December 22, 1928, in Memphis, Tennessee, but has spent most of her life in Florida. In this interview, Bistline discusses…
Dublin Core
Title
Longwood Collection
Alternative Title
Longwood Collection
Description
Collection of digital images, documents, and other records depicting the history of Longwood, Florida. Series descriptions are based on special topics, the majority of which students focused their metadata entries around.

The first European and Euro-American settlers arrived in present-day Longwood in the early 1870s. Its town founding settlers were John Neill Searcy of Tennessee and Edward Warren Henck of Boston, Massachusetts, both of which arrived in 1873. Henck was a railroad businessman, hotel owner, and real estate promoter, and he was later elected the first Mayor of Longwood in 1885. Henck was instrumental in bringing the South Florida Railroad to Longwood.

Although Longwood enjoyed growth from the railroad, the Great Freeze of 1894-1895 caused many citizens to leave Central Florida. However, the area experience growth again during the 1910s and 1920s. In 1923, the Town of Longwood was incorporated as a city. Longwood experienced decline during the Great Depression, and the city failed to dis-incorporate after its bank failed in 1932.

Growth returned to Longwood during World War II, thanks to the development of the Naval Air Station (NAS) Sanford and the Orlando Air Army Base, which was later renamed the Naval Training Center (NTC) Orlando. Prosperity increased again the 1960s and 1970s, due to the expansion of the military industry, the establishment of the space industry in nearby Brevard County, and the opening of Walt Disney World.
Contributor
Coverage
Longwood, Florida
Digital Collection
External Reference
Central Florida Society for Historical Preservation.
Longwood
. Charleston, SC: Arcadia, 2001.
Collection Tree