Christmas Collection
Dublin Core
Title
Christmas Collection
Alternative Title
Christmas Collection
Description
Collection of digital images, documents, and other records depicting the history of Christmas, Florida. Series descriptions are based on special topics, the majority of which students focused their metadata entries around.

Present-day Christmas was originally occupied by the Timucuan tribe, which was eventually obliterated by European diseases when the Spanish arrived in Florida. In the early 18th century, the Seminole tribes began migrating to Florida to raise cattle and grow citrus. Due to the outbreak of the Second Seminole War, the United States began the construction of Fort Christmas on December 25, 1837. The fort was used as a supply depot for its strategic location, but was abandoned in March 1838 as the Seminoles moved southward.

In the late 1970s, the Orange County Department of Parks and Recreation and the Fort Christmas Historical Society constructed a replica of the historic Fort Christmas just south of Christmas Creek. Fort Christmas Historical Park, located at 1300 Fort Christmas Road, was dedicated in 1977.
Contributor
Davis, Larry D., Jr.
Coverage
Christmas, Florida
Digital Collection
Collection Items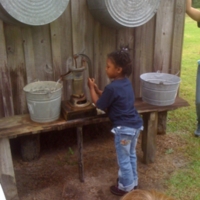 A kindergarten student at Fort Christmas Historical Park using a pump that was used for chores in the mid-nineteenth century at Fort Christmas, Florida. Present-day Christmas was originally occupied by the Timucuan tribe, which was eventually…
View item
Collection Tree