World War II Collection
Map this Collection in RICHES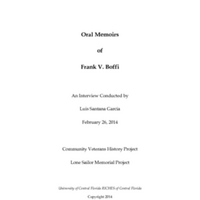 An oral history interview of Frank V. Boffi (b. 1922), who served in the U.S. Navy from 1942 to 1945 and again from 1948 to 1952. Boffi was born in Cranston, Rhode Island, on May 18, 1922. He served during both World War II and the Korean War, and…
Dublin Core
Title
World War II Collection
Alternative Title
WWII Collection
Subject
World War II, 1939-1945
Veterans--Florida
Description
Although Japan and China were already engaged war since 1937, September 1, 1939 is generally considered the beginning date of World War II. It was on this day that Adolf Hitler (1889-1945), the Führer of Nazi Germany, invaded Poland, inciting France and the United Kingdom to declare war. Through the course of the war, belligerents were general divided into two groups: the Allied Powers, consisting of the United Kingdom, France, the Soviet Union, China, Poland, Canada, Australia, India, Yugoslavia, Greece, the Netherlands, Belgium, South Africa, New Zealand, Norway, Czechoslovakia, Ethiopia, Brazil, Denmark, Luxembourg, Cuba, Mexico, the Philippines, Mongolia, and Iran; and the Axis Powers, consisting of Germany, Japan, Italy, Hungary, Romania, and Bulgaria.

The United States did not join the Allies until the Japanese attack on Pearl Harbor on December 7, 1941. War was waged for several years. On May 8, 1945, Germany surrendered to Soviet and Polish troops in response to the capture of Berlin just a few days earlier, in effect ending the war in Europe. The war in the Pacific theater did not end until Japan surrendered on August 15, 1945, in response to the atomic attacks on Hiroshima and Nagasaki.

World War II transformed the globe's geopolitical context. The United Nations (UN) was established and the United States and Soviet Union emerged as opposing superpowers, setting the stage for the 46-year long Cold War. Much of Europe was left in economic collapse and decolonization began in Asia and Africa.
Coverage
Naval Training Center, Orlando, Florida
Contributing Project
External Reference
Collection Tree