62nd Naval Construction Battalion, Company C
Dublin Core
Title
62nd Naval Construction Battalion, Company C
Alternative Title
62nd Seabees
Subject
World War, 1939-1945
Veterans--Florida
Description
A page from a battalion history book, which documents the service of the 62nd Naval Construction Battalion, or the 62nd Seabees (C-B's), during World War II. The book documents their entire service with text and photographs from each station and assignment. The page discusses the repair of Oahu after the attack on Pearl Harbor and the assault on Iwo Jima. The Seabees primarily worked in constructing vital infrastructure components during the war, such as communication network cables, water systems, naval yard pontoons, and airfields.
A notable individual in this photo is Everett Farrar. Farrar was born in St. Louis, Missouri, on September 19, 1920. Completing high school around 1940, Farrar worked as a grocery clerk during the Great Depression and enlisted in the United States Navy in 1942, after Pearl Harbor. Farrar was assigned to the 62nd Naval Construction Battalion. He provided vital construction and infrastructure repair after the attack on Pearl Harbor, and eventually airfield construction at Iwo Jima in 1945. Farrar later moved to Florida with his wife, Neva, whom he married in 1945. By 1957, Farrar worked for a large realtor in Fort Lauderdale, Florida. He passed away on May 20, 1996, and is buried in Florida National Cemetery in Bushnell.
In 2017, the University of Central Florida was one of three universities selected to launch the National Cemetery Administration's
Veterans Legacy Program Project
. The program engaged a team of scholars to make the life stories of veterans buried in the Florida National Cemetery available to the public. The project engages UCF students in research and writing and fosters collaboration between students, faculty and local Central Florida schools to produce interactive curriculum for k-12 students. The corresponding website exhibit uses RICHES Mosaic Interface to create a digital archive of related data. The public can use the project-developed augmented-reality app at more than 100 gravesites at the Florida National Cemetery, where they can access the UCF student-authored biographies of veterans.
Creator
United States Department of the Navy
Source
Page from original battalion history book.
Publisher
United States Department of the Navy
Is Part Of
Medium
1 page from battalion history book
Provenance
Originally created and published by the United States Department of the Navy.
Rights Holder
This resource is not subject to copyright in the United States and there are no copyright restrictions on reproduction, derivative works, distribution, performance, or display of the work. Anyone may, without restriction under U.S. copyright laws:
• reproduce the work in print or digital form
• create derivative works
• perform the work publicly
• display the work
• distribute copies or digitally transfer the work to the public by sale or other transfer of ownership, or by rental, lease, or lending.
This resource is provided here by
RICHES
for educational purposes only. For more information on copyright, please refer to
Section 5
of
Copyright Law of the United States of America and Related Laws Contained in Title 17 of the United States Code
.
Curator
Stoddard, James
Cravero, Geoffrey

Digital Collection
Source Repository
Files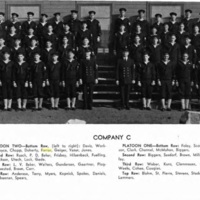 Collection
Citation
United States Department of the Navy. "62nd Naval Construction Battalion, Company C." RICHES of Central Florida accessed June 4, 2023, https://richesmi.cah.ucf.edu/omeka/items/show/10124.
Categories
Transcribe This Item