Letter from Randall Chase to Joshua Coffin Chase (August 9, 1919)
Files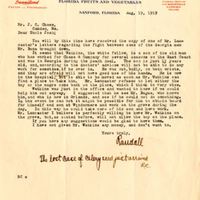 Dublin Core
Title
Letter from Randall Chase to Joshua Coffin Chase (August 9, 1919)
Alternative Title
Chase Correspondence (August 9, 1919)
Subject
Windermere (Fla.)
Chase, Joshua Coffin, 1858-1948
Chase and Company (Sanford, Fla.)
Citrus fruit industry--Florida
Citrus--Florida
Labor--Florida
Description
An original letter of correspondence between Randall Chase and his uncle, Joshua Coffin Chase. Topics discussed in the letter include a fight between a white laborer's 13-year-old son and a colored laborer at Isleworth Grove and the boarding arrangements for the boy once he is released from the hospital in Orlando.

Chase & Company was established by brothers Sydney Octavius Chase and Joshua Coffin Chase in 1884. The company sold insurance and later invested in storage facilities and fertilizer sales. Chase & Company was known mainly for its agricultural interests and maintained a series of citrus groves throughout Central Florida. The company was based out of Sanford and became one of the city's largest employers into the early twentieth century. By 1886, the Chase brothers purchased several citrus groves to expand their business, including Isleworth Grove in Windermere, Florida. Isleworth Grove covered a total of 1,300 acres along the Butler Chain of Lakes. Between 1894 and 1895, Central Florida was hit by several freezes and most of the citrus crop was destroyed. Chase & Company did not grow citrus crops again until 1904 when Joshua came back from an extended stay in California. Between 1894 and 1900, different types of pesticide equipment was created, including equipment driven by steam, machines, and horses.Randall Chase joined in the family business soon after his brother, Sydney Chase, Jr., did in 1922. Randall became the president of Chase & Company from 1948-1965. The Isleworth property stayed in the Chase family until 1984 when Franklin Chase, the son of Sydney Chase, sold the property to famed golfer Arnold Palmer.
Source
Original letter from Randall Chase to Joshua Coffin Chase, August 9, 1919: box 49, folder 20.83,
Chase Collection (MS 14)
, Special and Area Studies Collections, George A. Smathers Libraries, University of Florida, Gainesville, Florida.
Is Format Of
Digital reproduction of original letter from Randall Chase to Joshua Coffin Chase, August 9, 1919.
Medium
1-page typewritten letter on Chase & Company letterhead
Coverage
Chase & Company Office, Sanford, Florida
Camden, Maine
Isleworth Grove, Windermere, Florida
Orlando, Florida
Provenance
Entire
Chase Collection
is comprised of four separate accessions from various donors, including Cecilia Johnson, the granddaughter of Joshua Coffin Chase, and the children of Randall Chase.
Rights Holder
The displayed collection item is housed at
Special and Area Studies Collections
at the University of Florida in Gainesville, Florida. Rights to this item belong to the said institution, and therefore inquiries about the item should be directed there.
RICHES of Central Florida
has obtained permission from Special and Area Studies Collections at the University of Florida to display this item for educational purposes only.
Digital Collection
External Reference
"
Joshua Coffin Chase (1858-1948)
."
Florida Citrus Hall of Fame
. Copyright 2012. http://floridacitrushalloffame.com/index.php/inductees/inductee-name/?ref_cID=89&bID=0&dd_asId=960.
Transcript
CHASE & CO.
GROWERS' MARKETING AGENTS
PACKERS AND SHIPPERS
FLORIDA FRUITS AND VEGETABLES

DISTRIBUTORS
Sunniland
TRADEMARK
FRUITS AND VEGETABLES

UNITED STATES FOOD ADMINISTRATION
LICENSE NO. G-04516

FLORIDA OFFICES
JACKSONVILLE
SANFORD
MIAMI

SANFORD, FLORIDA
Aug. 19, 1919

Mr. J. C. Chasse,
Camden, Me.
Dear Uncle Josh;

You will by this time have received the copy of one of Mr. Lancaster's letters regarding the fight between some of the Georgia men Mr. Bona brought down.
It seems that Watkins, the white fellow, is a son of the old man who has worked for Chase & Company for several seasons on the East Coast and was in Georgia during the peach deal. The son is just 13 years old, and, according to the doctors' advices will not be able to do any work for sometime, if he ever is. He was cut, badly, on both wrists, and they are afraid will not have good use of his hands. He is now in the hospital in Orlando, but is able to be moved as soon as Mr. Watkins can find a place to take him. Mr. Lancaster refuses to let either the boy or the negro come back on the place, which I think is very wise.
Watkins was just in the office and wanted to know if we could help him out anyway. I suggested that he see Mr. Bogue, who knows him, and who is now in Orlando, and see if he could not do something. In the event he can not it might be possible for him to obtain board for himself and son at Windermere and work on the grove during the day. In this way he could take care of his son and have work. Mr. Lancaster I believe is perfectly willing to have Mr. Watkins on the grove, but, as stated before, will not allow the boy on the place.
If you have any suggestions would be glad to have them.
I have not given Mr. Watkins any money, and don't want to.

Yours truly,
Randall

The lost case of celery seed just arrived.
R.C.


RC c
Document Item Type Metadata
Original Format
1-page typewritten letter on Chase & Company letterhead
Collection
Citation
Chase, Randall. "Letter from Randall Chase to Joshua Coffin Chase (August 9, 1919)." RICHES of Central Florida accessed September 22, 2023, https://richesmi.cah.ucf.edu/omeka/items/show/2766.
Categories
Transcribe This Item