Acreage and Production of Grain Crops, Seminole County, 1929
Files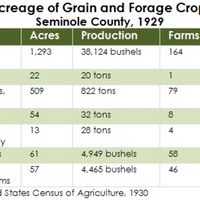 Dublin Core
Title
Acreage and Production of Grain Crops, Seminole County, 1929
Alternative Title
Seminole County Grain Crops
Subject
Seminole County (Fla.)
Agriculture--Florida
Grain--United States
Grain industry
Description
A table representing acreage and production of grain and forage crops in Seminole County during 1929. Statistics in the table identify various products produced in the county, how many acres each crop occupied, production number of each crop, and the number of farms reporting for each crop. The U.S. Census of Agriculture identified corn, cloves, tame and wild grasses, annual legumes, Irish potatoes, and sweet potatoes and yams as grain and forage crops.
Source
Original table by Laura Cepero, July 20, 2011.
References
U.S. Census of Agriculture 1930.
Coverage
Seminole County, Florida
Accrual Method
Item Creation
Mediator
History Teacher
Economics Teacher
Geography Teacher
Provenance
Originally created by Laura Cepero.
Rights Holder
Digital Collection
Source Repository
Transcript
Acreage of Grain and Forage Crops
Seminole County, 1929
Products Acres Production Farms Reporting
Corn, Harvested 1, 293 38,124 bushels 164
Clovers 22 20 tons 1
Tame Grasses, Other 509 822 tons 79
Wild Grasses 54 32 tons 8
Annual Legumes, Hay 12 28 tons 4
Irish Potatoes 61 4,949 bushels 58
Sweet Potatoes/Yams 57 4,465 bushels 46
Document Item Type Metadata
Collection
Citation
Cepero, Laura. "Acreage and Production of Grain Crops, Seminole County, 1929." RICHES of Central Florida accessed November 28, 2023, https://richesmi.cah.ucf.edu/omeka/items/show/3103.
Categories
Transcribe This Item