Acreage and Quantity of Corn, Sorghums, and Small Grains, Seminole County, 1939
Files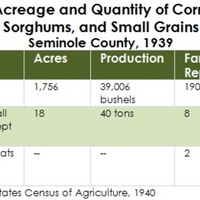 Dublin Core
Title
Acreage and Quantity of Corn, Sorghums, and Small Grains, Seminole County, 1939
Alternative Title
Seminole County Corn, Sorghums, and Small Grains
Subject
Seminole County (Fla.)
Agriculture--Florida
Grain--United States
Grain industry
Vegetables--Florida
Vegetable industry
Description
Aable representing acreage and quantity of corn, sorghum, and small grans in Seminole County during 1939. Statistics in the table identify various products produced in the county, how many acres each crop occupied, production number of each crop, and the number of farms reporting for each crop.

In the early-1900s, Seminole County was known for its agricultural development and close proximity to shipping lanes. By the 1920s, citizens in Seminole County, particularly in Sanford, soon shifted their interests in making the area a tourist destination.
Source
Original table by Laura Cepero, July 20, 2011.
Coverage
Seminole County, Florida
Accrual Method
Item Creation
Mediator
History Teacher
Economics Teacher
Geography Teacher
Provenance
Originally created by Laura Cepero.
Rights Holder
Digital Collection
Source Repository
Collection
Citation
Cepero, Laura. "Acreage and Quantity of Corn, Sorghums, and Small Grains, Seminole County, 1939." RICHES of Central Florida accessed December 5, 2023, https://richesmi.cah.ucf.edu/omeka/items/show/3106.
Categories
Transcribe This Item