Farm Statistics, Orange County, 1904
Dublin Core
Title
Farm Statistics, Orange County, 1904
Alternative Title
Orange County Farm Statistics
Subject
Orange County (Fla.)
Seminole County (Fla.)
Agriculture--Florida
Vegetables--Florida
Vegetable industry
Fruits
Fruit industry--Florida
Description
A table representing farm statistics in Orange County, Florida, during 1904. Statistics in the table identify various products produced in the county, how many acres each crop occupied, production number of each crop, and the dollar value of each crop. The U.S. Census of Agriculture identified upland and Sea Island cotton, corn, sweet potatoes, rice, sugarcane and syrup, peas, and native grass and natal grass hay as field crops.

Mosquito County, a massive county south of St. Johns County that consisted of much of Central Florida, was established in 1824. In 1845, Mosquito County was renamed Orange County when Florida earned statehood. This new county included present-day Osceola, Seminole, Lake, and Volusia counties. Orange County was named so for the area's major fruit crop: oranges. The area was devastated by a freeze during the winter of 1895-1896, which allowed for subsequent land speculators to initiate a land boom in Florida, with Orlando becoming a "boom town." Seminole County separated from Orange on April 25, 1913 and was named for the Seminole tribes that originally inhabited the area. In the early-1900s, Seminole County was known for its agricultural development and close proximity to shipping lanes. By the 1920s, citizens in Seminole County, particularly in Sanford, soon shifted their interests in making the area a tourist destination.
Source
Original table by Laura Cepero, July 18, 2011.
Coverage
Orange County, Florida
Seminole County, Florida
Accrual Method
Item Creation
Mediator
History Teacher
Economics Teacher
Geography Teacher
Provenance
Originally created by Laura Cepero.
Rights Holder
Digital Collection
Source Repository
External Reference
U.S. Bureau of the Census.
U.S. Census of Agriculture 1921
. Prepared by the U.S. Census Bureau in cooperation with the U.S. Department of Agriculture, Bureau of Survey and Statistics. Washington, D.C.: Government Printing Office, 1921.
Document Item Type Metadata
Files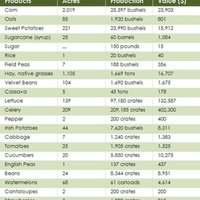 Collection
Citation
Cepero, Laura. "Farm Statistics, Orange County, 1904." RICHES of Central Florida accessed June 7, 2023, https://richesmi.cah.ucf.edu/omeka/items/show/3111.
Categories
Transcribe This Item