Letter from Henry L. DeForest to Anna M. Sperry DeForest (December 8, 1881)
Dublin Core
Title
Letter from Henry L. DeForest to Anna M. Sperry DeForest (December 8, 1881)
Alternative Title
Letter from Henry DeForest to Anna DeForest (December 8, 1881)
Description
A personal letter from Henry L. DeForest (1857-1902) to his wife, Anna M. Sperry DeForest. In the letter, DeForest discusses Henry Shelton Sanford's (1823-1891) recovery from an illness, DeForest's purchase of land from Sanford, the "celebrated occultist" Dr. Agnew's visit to Sanford, Mr. Case's hotel, and DeForest's hope to see Anna in the winter.

DeForest was born in Derby, Connecticut, and knew Henry Shelton Sanford since childhood. In 1870, DeForest came to Florida seeking better health in the warmer climate. He became Sanford's agent and helped carry out the work of establishing Sanford. He managed the contracted workers for Sanford's groves, especially the contracted Swedes that Sanford brought over in 1871. By the 1880s, he had married Anna M. Sperry, also from Derby, and had become an established businessman and grove owner in Sanford. He built his general store in 1887, which was the second oldest brick building in Downtown Sanford. His general store was the building where the historic September 1887 fire stopped. DeForest built other commercial buildings in downtown. His home, known as "The Palms," was located at 105 Aldean Drive and still stands today.
Creator
DeForest, Henry L.
Source
Original letter from Henry L. DeForest to Anna M. Sperry DeForest, December 8, 1881: DeForest Collection,
Sanford Museum
, Sanford, Florida.
Is Format Of
Digital reproduction of original letter from Henry L. DeForest to Anna M. Sperry DeForest, December 8, 1881.
Requires
Medium
2-page handwritten letter and envelope
Coverage
Derby, Connecticut
Sanford, Florida
Mediator
History Teacher
Economics Teacher
Provenance
Originally created by Henry L. DeForest.
Curator
Hazen, Kendra
Cepero, Laura
Digital Collection
Source Repository
External Reference
Sanford Historical Society (Fla.).
Sanford
. Charleston, SC: Arcadia, 2003.
Transcript
Sanford Fla Dec 8/81
Dear darling Wife
Your telegram of yesterday that Henry
[?] highter + better read today. This is good so far
as it goes, but I don't dora to hope for too [?]
I fear I shall hear he is worse again.
I moved
down here today.
I bought today from Sanford
Eight town lots for $2100 - $700 cash down - $ 700
one year from date + $700 2 years from date – two of
the lots are next to the Monroe house. – The other six are
just above Dr Frenchs + have 3 cottages on them. These
cottages rent for $100 – each per year. I think I
made a good purchase + that the property will
be valuable some day. I think I can pay for this
property out of my store + not touch the money
with Cornell + Shelton or Wilcox avove, bit if I
used that money it would pay better than
where it now is.
Dr. Agnew of N.Y.
is here – he is the celebrated occulist. He called
on me today + spent an hour or two in a
very pleasant chat. He goes tomorrow but may come
down again this winter.
The new hotel proprietor, Mr
Case keeps as fully good a house as the Hales + is
a much more agreeable man.
I still have a
faint hope to d of seeing you this winter but I hardly
expect to. – wouldn't we have a glorious time if you did
come. I would kill all the Turkeys + have a big big
dinner.
Good night darling. God bless + keep you
both for your own
Henry

Mrs. Henry L. DeForest
Derby Conn.

DERBY CONN
DEC 1[?] 1881
Document Item Type Metadata
Original Format
2-page handwritten letter and envelope
Files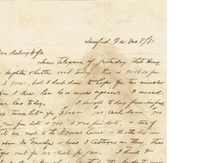 Collection
Citation
DeForest, Henry L.. "Letter from Henry L. DeForest to Anna M. Sperry DeForest (December 8, 1881)." RICHES of Central Florida accessed October 4, 2022, https://richesmi.cah.ucf.edu/omeka/items/show/4217.
Categories
Transcribe This Item