American Civil War Bullets
Dublin Core
Title
American Civil War Bullets
Alternative Title
Civil War Bullets
Subject
American Civil War, 1861-1865
Civil War
Bullets
United States. Army
Army
Description
Bullets from the American Civil War, which was fought between the Union and the Confederacy between 1861 and 1865. After four years of battle, the Union destroyed the Confederacies infrastructure, successfully crushing their ability to continue fighting. The Civil War became the testing ground for advanced rifles and new kinds of bullets. The U.S. Ordnance Department, after conducting tests, determined that the Army should use percussion lock guns, rifled, firing conical bullets of moderate (.58 Caliber) size. Confederate President Jefferson Davis had approved these findings on July 5, 1855, when he was U.S. Secretary of War. The Confederate States of America (CSA), which was short on money and arms, rifled older muskets, which fired 0.69 caliber bullets. Along with those rifles, the CSA also bought foreign guns of many types and also used captured Union weapons. This wide range of rifles used during the war explains the multiple kinds of bullets later found on battlegrounds. The Museum of Seminole County History has a wide range of bullets found from that period that include: .54, .68, .58, .69, .53, .54, .57, .44, hospital bullets, and sharps rifle bullets.
Coverage
Seminole County, Florida
Curator
Fried, Aaron
Cepero, Laura
Digital Collection
Source Repository
Still Image Item Type Metadata
Original Format
1 color digital image
Files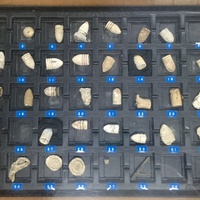 Collection
Citation
"American Civil War Bullets." RICHES of Central Florida accessed June 26, 2022, https://richesmi.cah.ucf.edu/omeka/items/show/5616.
Categories
Transcribe This Item