Apollo Soyuz Test Project Prime Crewmen
Files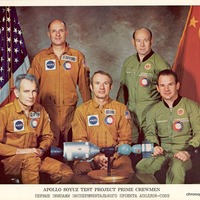 Dublin Core
Title
Apollo Soyuz Test Project Prime Crewmen
Alternative Title
Apollo Soyuz Test Project Prime Crewmen
Subject
National Aeronautics and Space Administration (U.S.)
NASA
Apollo Project (U.S.)
Project Apollo (U.S.)
Apollo Soyuz Test Project
Slayton, Deke, 1924-1993
Stafford, Thomas P.
Brand, Vance
Kubasov, V. N. (Valeriĭ Nikolaevich)
Description
The American and Soviet crews of the Apollo–Soyuz Test Project (ASTP). The Apollo crew consisted of Docking Module Pilot Deke Slayton (1924-1993) (1924-1993), Mission Commander Thomas Stafford (1930-), and Command/Service Module Pilot Vance de. Brand. The Soyuz crew consisted of Commander Alexey Leonov (1934-), Flight Engineer Valeri Nikolayevich Kubasov (1935-2014). Both spacecraft launched on July 15, 1975, within hours of each other, with the first being the Soyuz 19 from Baikonur Cosmodrome in Kazakhstan and the Apollo from Launch Pad 39B at John F. Kennedy Space Center (KSC) in Merritt Island, Florida. The two spacecraft docked on July 17 and undocked on July 19, with crews conducting joint science experiments. They also spent time giving tours of each other's spacecraft to television audiences and formal and informal gift exchanges. Afterward, the undocking the Soyuz spent an additional day carrying out experiments and landed on July 21. The Apollo crew also stayed in orbit and conducted space science and Earth observation landing in the Pacific Ocean on July 24.
Source
Original color photographic print: Leonard Pugh Collection.
Contributor
Is Format Of
Digital reproduction of original color photographic print.
Medium
1 color photographic print
Coverage
Launch Complex 39B, John F. Kennedy Space Center, Merritt Island, Florida
Baikonur Cosmodrome, Kazakh Soviet Socialist Republic, Union of Soviet Socialist Republics
Mediator
History Teacher
Civics/Government Teacher
Rights Holder
Copyright to this resource is held by Leonard Pugh and is provided here by
RICHES of Central Florida
for educational purposes only.
Contributing Project
Curator
Michlowitz, Robert
Cepero, Laura
Digital Collection
External Reference
"
THE FLIGHT OF APOLLO-SOYUZ
." National Aeronautics and Space Administration. Accessed June 26, 2015. http://history.nasa.gov/apollo/apsoyhist.html.
"
The Apollo-Soyuz Mission
." National Aeronautics and Space Administration. Accessed June 26, 2015. https://www.nasa.gov/mission_pages/apollo-soyuz/astp_mission.html.
Collection
Citation
"Apollo Soyuz Test Project Prime Crewmen." RICHES of Central Florida accessed October 2, 2023, https://richesmi.cah.ucf.edu/omeka/items/show/5921.
Categories
Transcribe This Item