Westinghouse Tampa Division
Files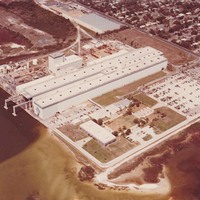 Dublin Core
Title
Westinghouse Tampa Division
Alternative Title
Westinghouse Tampa Division
Subject
Tampa (Fla.)
Westinghouse Electric Corporation
Description
Westinghouse Electric's nuclear steam generator and pressurizer factory located at 6501 South West Shore Boulevard in Tampa, Florida. The product lines of nuclear steam generators and pressurizers were moved to Tampa from the Power Generation Heat Transfer Division and manufacturing plant in Lester, Pennsylvania, just outside of Philadelphia. The Westinghouse Tampa Division, which went operational in 1968, was located on a 42-acre swampy piece of land on Tampa Bay, in an area then known as Rattlesnake Flats.

The Tampa manufacturing facility was somewhat of an economic boom to the area. At the time of the announcement made by John T. Steifel, General Manager of the Westinghouse Heat Transfer Division, in May 1967, it was expected to have a $5,000,000 annual payroll. The workforce consisted of personnel who moved to Tampa from the Lester plant, but was primarily staffed with hires from the local area. The plant employed hundreds of people, consisting of design engineers, information technology (IT) personnel, manufacturing engineers, fabricators, welders, quality assurance engineers, inspectors, and members of many other disciplines. The clean, "smokeless," $25-million plant consisted of nearly 300,000 square feet (which was nearly doubled after an expansion) of high technology, automated, heavy manufacturing, testing, and inspection equipment, as well as a steam generation test facility.

During its operation, the plant manufactured and shipped major nuclear plant components to many U.S. and international power plants. The products manufactured at this Tampa-based plant provide people with electricity throughout the United States and in Japan, Spain, Switzerland, France, South Korea, and other countries around the world. In those early days in the nuclear power generation industry, before the creation of a dedicated a Nuclear Service Division, much of the service work on the nuclear components was done by the personal at the manufacturing plants going to the field.

Due to the nuclear plant accidents at Three Mile Island in 1979 and at Chernobyl in 1986, as well as the increasing costs due to lawsuits aimed at shutting down the nuclear power business, many nuclear plant orders dried up and the Westinghouse Tampa plant was closed as a manufacturing facility in the early 1980s. More than a few of the engineering and other professional personnel relocated to the Westinghouse Power Generation Business Unit in Orlando.

For a few years after the plant closure, George Steinbrenner's (1930-2010) American Ship Building Company leased the manufacturing facility for the modification and fabrication of large ocean going vessels. Also during that time, the Westinghouse Southeastern Nuclear Technology Center's engineering office, managed by Pete DeRosa, was located at the facility. It provided analytic support to Westinghouse nuclear plants under construction. Today, where the Tampa plant once stood on Tampa Bay are now townhouses and a high-rise condominium.
Source
Original 5 x 7 inch color photograph, 1968: Private Collection of Pete DeRosa.
Is Format Of
Digital reproduction of original 5 x 7 inch color photograph, 1968.
Medium
5 x 7 inch color photograph
Coverage
Westinghouse Tampa Division, Tampa, Florida
Mediator
History Teacher
Economics Teacher
Geography Teacher
Provenance
Originally owned by Pete DeRosa.
Curator
DeRosa, Pete
Cepero, Laura
Digital Collection
Source Repository
Private Collection of Pete DeRosa
External Reference
"
History
." Westinghouse Nuclear. http://www.westinghousenuclear.com/About/History.
Still Image Item Type Metadata
Original Format
1 color photograph
Physical Dimensions
5 x 7 inches
Collection
Citation
"Westinghouse Tampa Division." RICHES of Central Florida accessed December 1, 2023, https://richesmi.cah.ucf.edu/omeka/items/show/6526.
Categories
Transcribe This Item