Headstone of Private First Class Samuel T. Williams at the Epinal American Cemetery and Memorial
Files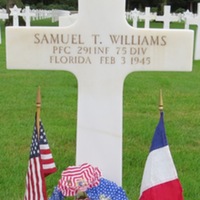 Dublin Core
Title
Headstone of Private First Class Samuel T. Williams at the Epinal American Cemetery and Memorial
Alternative Title
Headstone of Samuel T. Williams
Subject
World War II, 1939-1945
Army
Veterans--Florida
Cemeteries--Europe
Description
The headstone of Samuel T. Williams (1922-1945). A native of Eustis, Williams served as a Private First Class (PFC) in the U.S. Army during World War II. He died during his service in France and is currently buried at the Epinal American Cemetery and Memorial in Dinozé, France. He is one of 85 Florida residents interned at Epinal. Williams was born in 1922. He enlisted in the Army on October 24, 1942, while attending UF. Williams was assigned to the 291st Infantry Regiment of the 75th Infantry Division. Williams' division arrived in Britain in November of 1944. They took part in a number of major battles, including the Battle of the Bulge in 1944 and 1945 and the Battle of Colmar Pocket in 1945. Williams died in combat around the Alsace-Lorraine region on February 3, 1945.
Source
Original color digital image by Dwight Anderson: Private Collection of Dwight Anderson.
Publisher
Date Created
ca. 2010-08-07
Medium
1 color digital image
Coverage
Epinal American Cemetery and Memorial, Dinozé, France
Mediator
History Teacher
Civics/Government Teacher
Provenance
Originally Created by Dwight Anderson and published by
Find A Grave
.
Contributing Project
Epinal Project
Digital Collection
Source Repository
Private Collection of Dwight Anderson
External Reference
"
PFC Samuel T Williams
." Find A Grave. http://www.findagrave.com/cgi-bin/fg.cgi?page=gr&GSln=williams&GSfn=samuel&GSmn=t&GSbyrel=all&GSdyrel=all&GScntry=7&GSob=n&GRid=56376369&df=all&.
"
Electronic Army Serial Number Merged File, ca. 1938 - 1946 (Reserve Corps Records)
." National Archives and Record Administration. https://aad.archives.gov/aad/record-detail.jsp?dt=929&mtch=1&cat=TS14&tf=F&sc=25005,25022,25006,25025,25007,25020,25028,25023&bc=,sl,fd&txt_25005=14077340&op_25005=0&nfo_25005=V,8,1900&rpp=10&pg=1&rid=111061 (accessed October 18, 2015).
Transcript
SAMUEL T. WILLIAMS
PFC 29HNF 75 DIV
FLORIDA FEB 3 1945
Still Image Item Type Metadata
Original Format
1 color digital image
Citation
Anderson, Dwight. "Headstone of Private First Class Samuel T. Williams at the Epinal American Cemetery and Memorial." RICHES of Central Florida accessed November 29, 2023, https://richesmi.cah.ucf.edu/omeka/items/show/6535.
Categories
Transcribe This Item