Church Street, Showing Huguenot and St. Philip's Church Postcard
Dublin Core
Title
Church Street, Showing Huguenot and St. Philip's Church Postcard
Alternative Title
Huguenot and St. Philip's Church Postcard
Subject
Churches--United States
Episcopal Church--United States
Description
A postcard depicting a view of Church Street in Charleston, South Carolina, on which stand two of the oldest churches in the United States. St. Philip's Episcopal Church opened in 1723, after moving from its original 1680 site, which is now the site of St. Michael's Episcopal Church. The Huguenot Church was built in 1687 by a group of French Protestants who had settled in Charleston, but it was destroyed in 1796. The present structure is the third, which was completed in 1845 in the Gothic Revival style of architecture.

This postcard is part of a collection of postcards kept by Lucile Campbell, a schoolteacher in Sanford, Florida, for 30 years. In 1931, she took advantage of a special rate for teachers and sailed to Europe, where she traveled for several months and is thought to have acquired many of these postcards. During the 1940-1941 school year, Campbell taught at Sanford Grammar School. Before her retirement in 1970, she taught at many other area schools, including the Oviedo School, Westside Grammar School, and Pinecrest Elementary School. Campbell used these postcards as aids in her classrooms to teach advanced subjects, such as Shakespearean drama. The collection, along with her other teaching aids, papers, and photographs, was later found at Sanford Grammar School after it became the University of Central Florida's Public History Center. Campbell's postcard collection and photographs provide insight into the life of a respected Florida educator.
Source
Original 3 x 5 inch color postcard: ACC# SM-00-243, file folder 1 (U.S. blanks), box 10A, Lucile (Mary Lucile) Campbell Collection,
UCF Public History Center
, Sanford, Florida.
Publisher
Trouche, Paul E.
Date Created
ca. 1950-1959
Date Copyrighted
ca. 1950-1959
Contributor
Campbell, Lucile
Is Format Of
Digital reproduction of original 3 x 5 inch color postcard.
Is Part Of
Lucile Campbell Collection
, Student Museum and UCF Public History Center Collection, Seminole County Collection, RICHES of Central Florida.
Requires
Medium
3 x 5 inch color postcard
Coverage
St. Philip's Episcopal Church, Charleston, South Carolina
Huguenot Church, Charleston, South Carolina
Mediator
History Teacher
Geography Teacher
Provenance
Originally published by Paul E. Trouche.
Contributing Project
Aphasia Project
Digital Collection
Source Repository
Still Image Item Type Metadata
Original Format
1 color postcard
Physical Dimensions
3 x 5 inches
Files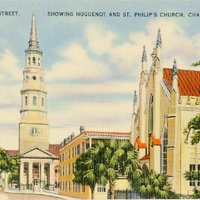 Collection
Citation
"Church Street, Showing Huguenot and St. Philip's Church Postcard." RICHES of Central Florida accessed June 8, 2023, https://richesmi.cah.ucf.edu/omeka/items/show/6778.
Categories
Transcribe This Item