Application for Marriage License for Solomon Callis Sturdivant and Dorothy Ann Simpson
Dublin Core
Title
Application for Marriage License for Solomon Callis Sturdivant and Dorothy Ann Simpson
Alternative Title
Application for Marriage License for Solomon Sturdivant and Dorothy Simpson
Subject
Atlantic Beach (Fla.)
Marriage--United States
Description
An application for a marriage license for Solomon Callis Sturdivant (1915-1945) and Dorothy Ann Simpson. Sturdivant was born to James Sturdivant and Mary Sturdivant on April 25, 1914, in Wytheville, Virginia. Private first class Sturdivant was drafted by the U.S. Army on December 29, 1942, while he was residing in Atlantic Beach. During World War II, he served as a member of the 231st American Antiaircraft Artillery Searchlight Battalion. PFC Sturdivant was Killed in Action (KIA) in France on March 5, 1945. He is buried at Epinal American Cemetery and Memorial in Dinozé, France.
Contributor
Sturdivant, Solomon Callis
Simpson, Dorothy Ann
Is Part Of
Image Number 01183, Digital Folder Number 004706872, GS Film Number 2109281,
State Archives of Florida
, Tallahassee, Florida.
Medium
1 handwritten application
Coverage
Atlantic Beach, Florida
Rights Holder
This resource is not subject to copyright in the United States and there are no copyright restrictions on reproduction, derivative works, distribution, performance, or display of the work. Anyone may, without restriction under U.S. copyright laws:
reproduce the work in print or digital form
create derivative works
perform the work publicly
display the work
distribute copies or digitally transfer the work to the public by sale or other transfer of ownership, or by rental, lease, or lending.
This resource is provided here by
RICHES of Central Florida
for educational purposes only. For more information on copyright, please refer to
Section 5
of
Copyright Law of the United States of America and Related Laws Contained in Title 17 of the United States Code
.
Contributing Project
Epinal American Cemetery and Memorial Project
Curator
Dunn, Casey
Cepero, Laura
Digital Collection
Source Repository
External Reference
GRid=56375799.
Files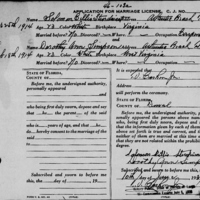 Collection
Citation
"Application for Marriage License for Solomon Callis Sturdivant and Dorothy Ann Simpson." RICHES of Central Florida accessed August 10, 2022, https://richesmi.cah.ucf.edu/omeka/items/show/9322.
Categories
Transcribe This Item