Sixteenth Census Population Schedule for Tallahassee
Dublin Core
Title
Sixteenth Census Population Schedule for Tallahassee
Alternative Title
Census Population Schedule for Tallahassee
Subject
Tallahassee (Fla.)
Population--United States
Description
The census population schedule for Tallahassee, Florida, in 1940. Individuals are identified by name, titles and terms, gender, age, marital status, race, relationship to head of household, birthplace, birth year, the last place of residence, and occupation. A notable resident included in this record is Private James Robert Maddox (1924-1944), who was listed as J. Robert Maddox. In 1924, Maddox was born in Detroit, Michigan, to Claude Haskell Maddox, Sr. (b. 1895) and Nita P. Maddox (b. 1900). Maddox was the oldest of three with two brothers, William Maddox and Claude Haskell Maddox, Jr. The Maddox family moved from Tallahassee, to Tallahassee, Florida, sometime between 1930 and 1940. On February 27, 1943, Maddox enlisted into the U.S. Army's 15th Infantry Regiment of the 3rd Infantry Division at Camp Blanding. This regiment served in Licata, Salerno, and Anzio, Italy, from 1943 to 1944. The regiment landed in southern France on August 15, 1944. Pvt. Maddox was Killed in Action (KIA) on October 9, 1944. He is buried at the Epinal American Cemetery and Memorial in Dinozé, France.
Creator
Hamlin, Lona Carolyn
Source
Records Administration, Washington, D.C.
Publisher
Is Part Of
Digital Folder Number 005449588, Affiliate Film Number 597, Affiliate Publication Number T627,
National Archives &amp
Records Administration, Washington, D.C.
Medium
1 handwritten census record
Coverage
Tallahassee, Florida
Mediator
History Teacher
Civics/Government Teacher
Rights Holder
This resource is not subject to copyright in the United States and there are no copyright restrictions on reproduction, derivative works, distribution, performance, or display of the work. Anyone may, without restriction under U.S. copyright laws:
reproduce the work in print or digital form
create derivative works
perform the work publicly
display the work
distribute copies or digitally transfer the work to the public by sale or other transfer of ownership, or by rental, lease, or lending.
This resource is provided here by
RICHES of Central Florida
for educational purposes only. For more information on copyright, please refer to
Section 5
of
Copyright Law of the United States of America and Related Laws Contained in Title 17 of the United States Code
.
Contributing Project
Epinal American Cemetery and Memorial Project
Curator
Stanley, Allison
Cepero, Laura
Digital Collection
Source Repository
Records Administration
External Reference
GRid=56373914.
"
Bobbie Maddox
." FamilySearch. https://familysearch.org/ark:/61903/1:1:SPZC-N6W.
"
J Robert Maddox
." FamilySearch. https://familysearch.org/ark:/61903/1:1:VTCM-11F.
Files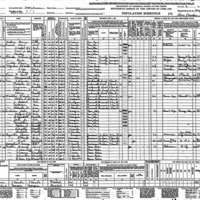 Collection
Citation
Hamlin, Lona Carolyn. "Sixteenth Census Population Schedule for Tallahassee." RICHES of Central Florida accessed November 27, 2022, https://richesmi.cah.ucf.edu/omeka/items/show/9353.
Categories
Transcribe This Item