Pensacola High School's Senior Class, 1939
Dublin Core
Title
Pensacola High School's Senior Class, 1939
Alternative Title
Pensacola High's Senior Class
Subject
Pensacola (Fla.)
Schools
Education--Florida
Description
A page from Pensacola High School's yearbook, Tiger's Tale for the 1938-1939 school year. In 1870, the first public school for boys in Pensacola, Florida, was organized. In 1875, a two-story building was constructed on Wright Street and the school was named the Pensacola Academy. A new building was erected on Lee Square in 1886 and the name was changed to Public School No. 1. In 1905, the school changed its name to Pensacola Senior High School. The school again moved to a new building at 500 West Maxwell Street in 1952.

A notable student pictured in this yearbook is Doyle Fleming Nee (1921-1944), who attended Pensacola High School in Pensacola, Florida. He married one of his classmates before joining the U.S. Army Air Forces' (USAAF) 367th Fighter Squadron of the 358th Fighter Group during World War II. First Lieutenant Nee became a skilled airplane pilot and participated in many battles throughout France during his career. His life came to an end on October 2, 1944, when a friendly airplane struck his plane, and he evacuated the aircraft without a parachute near Faulquemont, France. 1st Lt. Nee is buried at Epinal American Cemetery and Memorial in Dinozé, France.
Source
usePUBJs=true&amp
gss=angs-g&amp
new=1&amp
rank=1&amp
gsfn=doyle%20f&amp
gsfn_x=0&amp
gsln=Nee&amp
gsln_x=0&amp
MSAV=0&amp
cp=0&amp
catbucket=rstp&amp
uidh=m81&amp
pcat=ROOT_CATEGORY&amp
h=160053279&amp
db=YearbooksIndex&amp
indiv=1&amp
ml_rpos=2" target="_blank">Tiger's Tale (Pensacola, FL: 1939).
Date Created
ca. 1938-1939
Coverage
Pensacola High School, Pensacola, Florida
Rights Holder
This resource is not subject to copyright in the United States and there are no copyright restrictions on reproduction, derivative works, distribution, performance, or display of the work. Anyone may, without restriction under U.S. copyright laws:
reproduce the work in print or digital form
create derivative works
perform the work publicly
display the work
distribute copies or digitally transfer the work to the public by sale or other transfer of ownership, or by rental, lease, or lending.
This resource is provided here by
RICHES of Central Florida
for educational purposes only. For more information on copyright, please refer to
Section 5
of
Copyright Law of the United States of America and Related Laws Contained in Title 17 of the United States Code
.
Contributing Project
Epinal American Cemetery and Memorial Project
Curator
Guild, Victoria
Cepero, Laura
Digital Collection
External Reference
GRid=56374483.
"
F Doyle Nee
." FamilySearch. https://familysearch.org/ark:/61903/1:1:SRN1-GT2..
"Missing Air Crew Report for First Lieutenant Doyle Fleming Nee." RICHES of Central Florida.
"Missing Air Crew Report Statement for First Lieutenant Doyle Fleming Nee." RICHES of Central Florida.
Files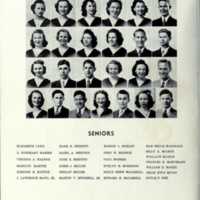 Collection
Citation
"Pensacola High School's Senior Class, 1939." RICHES of Central Florida accessed October 5, 2022, https://richesmi.cah.ucf.edu/omeka/items/show/9365.
Categories
Transcribe This Item