Sixteenth Census Population Schedule for Greensburg, Pennsylvania
Files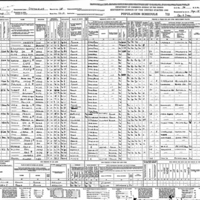 Dublin Core
Title
Sixteenth Census Population Schedule for Greensburg, Pennsylvania
Alternative Title
Census Population Schedule for Westmoreland
Subject
Population--United States
Description
The census population schedule for Greensburg, Pennsylvania, in 1940. Individuals are identified by name, titles and terms, gender, age, marital status, race, relationship to head of household, birthplace, birth year, the last place of residence, and occupation. A notable resident included in this record is First Lieutenant Frank Black Morgan (1920-1944). 1st Lt. Morgan was born in Greensburg on January 28, 1920, to Samuel Morgan and Edna Grace Morgan. Samuel Morgan was a first generation American of Northern Irish descent, working in the publishing industry as an editor and linotype operation. Edna Grace Morgan (née Black) was a native of Pennsylvania. 1st Lt. Morgan had two older brothers: Samuel Cree Morgan (1909-1990) and James Alexander Morgan (1912-1982). The Morgans owned a home on 17 Clopper Street in Greensburg, where 1st Lt. Morgan resided until he entered active service on April 27, 1942, out of Pittsburgh, Pennsylvania, at the age of 22. 1st Lt. Morgan trained at MacDuill Field, a U.S. Army Air Corps which would become MacDill Air Force Base in Tampa, Florida, and then served with the 555th Bomber Squadron, a unit within the 386th Bomber Group. 1st Lt. Morgan served his country with distinction, earning an Air Medal with Eight Oak Leaf Clusters. He died on December 20, 1944, four days into the Ardennes Counteroffensive, also known as the Battle of the Bulge. His death is listed as non-battle related, suggesting that he may have been one of the many Martin B-26 Marauder crashes at takeoff or upon landing. 1st Lt. Morgan died just before the end of World War II at the age of 24. 1st Lt. Morgan is buried in Plot B, Row 39, Grave 46 at Epinal American Cemetery and Memorial in Dinozé, France. A second memorial was organized by his family is at Parker Presbyterian Cemetery in Parker, Pennsylvania.
Source
Records Administration, Washington, D.C.
Publisher
Is Part Of
Digital Folder Number 005456760, Affiliate Film Number 3630, Affiliate Publication Number T627,
National Archives &amp
Records Administration, Washington, D.C.
Medium
1 handwritten census record
Coverage
Greensburg, Pennsylvania
Mediator
History Teacher
Civics/Government Teacher
Rights Holder
This resource is not subject to copyright in the United States and there are no copyright restrictions on reproduction, derivative works, distribution, performance, or display of the work. Anyone may, without restriction under U.S. copyright laws:
reproduce the work in print or digital form
create derivative works
perform the work publicly
display the work
distribute copies or digitally transfer the work to the public by sale or other transfer of ownership, or by rental, lease, or lending.
This resource is provided here by
RICHES of Central Florida
for educational purposes only. For more information on copyright, please refer to
Section 5
of
Copyright Law of the United States of America and Related Laws Contained in Title 17 of the United States Code
.
Contributing Project
Epinal American Cemetery and Memorial Project
Curator
Calligy, Devin
Cepero, Laura
Digital Collection
Source Repository
Records Administration
External Reference
GRid=56374382.
"Headstone Inscription and Interment Record for First Lieutenant Frank B. Morgan." RICHES of Central Florida.
GRid=58136219.
The 386th Bomb Group. 1945.
Citation
"Sixteenth Census Population Schedule for Greensburg, Pennsylvania." RICHES of Central Florida accessed December 6, 2023, https://richesmi.cah.ucf.edu/omeka/items/show/9437.
Categories
Transcribe This Item