Belair Grove Collection
Map this Collection in RICHES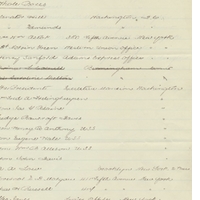 An undated memorandum listing recipients of oranges sent from Belair Grove in Sanford, Florida. Recipients included the President Chester A. Arthur (1829-1886), ; William B. Allison (1829-1908), Republican Senator from Iowa; Senator Henry B. Anthony,…
A memorandum listing recipients of oranges sent from Belair Grove in Sanford, Florida, dated January 18, 1883. The list denoted recipients of full boxes and half boxes of oranges. Recipients included J. S. Mack, Major W. D. Buckham, the wife of…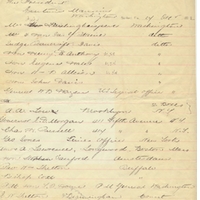 A memorandum listing recipients of oranges sent from Belair Grove in Sanford, Florida, dated December 24, 1882. The list denoted recipients of full boxes and half boxes of oranges. Notable recipients included Republican President Chester A. Arthur…
Dublin Core
Title
Belair Grove Collection
Alternative Title
Belair Collection
Subject
Lake Mary (Fla.)
Sanford (Fla.)
Citrus fruit industry--Florida
Agriculture--Florida
Sanford, Henry Shelton, 1823-1891
Description
in 1870, Henry Shelton Sanford purchased 12,547.15 square acres of land known as the Sanford Grant. The acreage included an experiment station called Belair Grove, located just three miles southwest of the city named after Sanford. By 1889, Sanford extended his land purchase to 145 acres and contained mainly orange and lemon trees. In Belair alone, Sanford introduced over 140 varieties of citrus plants. All were tested to determine if Florida citrus growers could introduce new varieties into the growing citrus market. Sanford also grew exotic plants acquired from Central and South America, many of which survived the 1886 freeze. Sanford mainly used Belair as his own experiment station, but ultimately the findings and reports would be used by other citrus growers throughout Florida. Eventually, following Sanford's death in 1891, his wife, Gertrude Sanford, sold Belair to Sydney Octavius Chase and Joshua Coffin Chase.
Contributor
Coverage
Belair Grove, Lake Mary, Florida
Sanford, Florida
Curator
Cepero, Laura
Fedorka, Drew M.
Digital Collection
External Reference
Some Account of Belair, Also of the City of Sanford Florida, With a Brief Sketch of Their Founder. Sanford, Florida: 1889.
Collection Tree