Jacksonville Beach Collection
Map this Collection in RICHES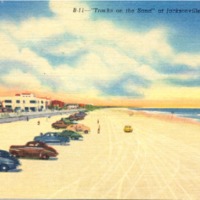 A postcard depicting Jacksonville Beach, Florida. Originally inhabited by the Timucua, the area of present-day Jacksonville Beach was not settled by non-indigenous peoples until the late 19th century. The first settlers to migrate to the area were…
Dublin Core
Title
Jacksonville Beach Collection
Alternative Title
Jacksonville Beach Collection
Subject
Jacksonville Beach (Fla.)
Description
Originally inhabited by the Timucua, the area of present-day Jacksonville Beach was not settled by non-indigenous peoples until the late 19th century. The first settles to migrate to the area were William Edward Scull and Eleanor Kennedy Scull in the early 1880s, naming the settlement Ruby. In 1886, the town was renamed Pablo Beach. Developers began transforming the area into a resort community, first with the construction of the Murray Hall Hotel and then by the extension of the Florida East Coast Railway (FEC) to present-day Jacksonville Beach.<br /><br />In 1905, Pablo Beach became a popular tourist attract for its amusement parks, such as The Pavilion, which was later renamed Little Coney Island. In 1925, the name of the town was changed to Jacksonville Beach. In 1949, the Ocean View Pavilion amusement park was destroyed by fire, and the boardwalk continued to decline in the 1950s, primarily to an anti-gambling crackdown. While this postcard shows cars driving on the beach, such activities were banned in 1979.
Contributor
Van Horn, Bob
Coverage
Jacksonville Beach, Florida
Digital Collection
External Reference
"
History and Facts
." Leon County. https://cms.leoncountyfl.gov/Home/Departments/Public-Works/Operations/Mosquito-Control/Community-Education-and-Information/History-and-Facts.
Collection Tree