Sarasota Collection
Dublin Core
Title
Sarasota Collection
Alternative Title
Sarasota Collection
Description
The first recorded contact of European explorers in present-day Sarasota, Florida, was at Charlotte Harbor in 1513. Following American acquisition of the Florida Territory, the U.S. Army established Fort Armistead along the bay. The first permanent Euro-American settler was William Henry Whitaker (1821-1888), who arrived in the early 1840s. Other pioneer families include the Webbs, Lewis Colson, the Brownings, John Hamilton Gillespie (1852-1923), Owen Burns (1869-1937), and Bertha Palmer (1849-1918).

The Village of Sarasota was incorporated, with Gillespie as mayor, in 1902, the same year that the West Indies Railroad was extended to the area. Sarasota was re-platted in 1912 and incorporated as a city in 1913, under the leadership of Mayor A. B. Edwards. Several of the Ringling brothers, who established the Ringling Brothers Circus in 1884, also settled in Sarasota. Charles Edward Ringling (1863-1926) and John Ringling (1866-1936) were especially instrumental in the development of Sarasota.
Contributor
Van Horn, Bob
Coverage
Sarasota , Florida
Digital Collection
Source Repository
Elder, Amy A. 
Sarasota
. Charleston, SC: Arcadia, 2003.
"
History of Sarasota
." The City of Sarasota. http://www.sarasotagov.com/InsideCityGovernment/Content/Commissioners/GeneralInfo/OurHistory.html.
Collection Items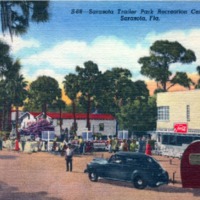 A postcard depicting the Sarasota Trailer Park's recreation center in Sarasota, Florida. To the right of the postcard is the Trailer City Headquarters, which housed a grocery store and a post office substation. The trailer park was founded in the…
View item
Collection Tree