Apopka Historical Society and Museum of the Apopkans Collection
Dublin Core
Title
Apopka Historical Society and Museum of the Apopkans Collection
Alternative Title
Museum of the Apopkans Collection
Subject
Museums--Florida
Apopka (Fla.)
Description
The Museum of the Apopkans, located at 122 East Fifth Street in Apopka,Florida, includes exhibits about the history of Apopka and Northwest Orange County. The museum is operated by the Apopka Historical Society, which was formed in 1968 after Edward A. Miner displayed his exhibit of early Apopka artifacts at the Folk Festival that same year. Miner was soon joined by the Central Florida Anthropological Society and several artists: Bertha Wolz, Betty Jamison, Vicikie Doggett, and David Findley. The society was incorporated in 1971 with Elizabeth Grossenbacher as president, Mildred S. Whiteside was vice president, Reba R. Evans as secretary, and Miner as curator. The first Board of Directors included John H. Land, Elin Larson, and Mary Lee Welch.
Coverage
Apopka Historical Society and Museum of the Apopkans Collection, Apopka, Florida
Contributing Project
Digital Collection
Source Repository
External Reference
"
About Apopka
." City of Apopka. http://www.apopka.net/visitors/about-apopka.html.
Apopka Historical Society. 
Apopka
. Charleston, SC: Arcadia, 2004.
Collection Items
The Museum of the Apopkans, located at 122 East Fifth Street in Apopka, Florida, includes exhibits about the history of Apopka and Northwest Orange County. The museum is operated by the Apopka Historical Society, which was formed in 1968, after…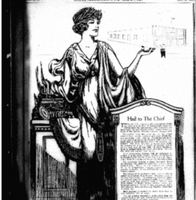 The Apopka Chief, volume I, number 47 for March 7, 1924. This edition of the newspaper announces a new publishing plant, built by Lee F. Lovell, measuring 80 feet by 35 feet and featuring a Single Keyboard 14 Linotype. Published by the Apopka…
View all 2 items
Collection Tree