Chattanooga, Tenn.
Files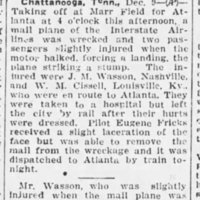 Dublin Core
Alternative Title
Chattanooga, Tennessee
Subject
Veterans--Florida
Description
A newspaper article published in
The Tennessean
, on December 9, 1928. The article describes a mail plane that was crashed by Eugene Fricks. Although the plane hit a stump, Fricks escaped the incident with only a small laceration to the face and everyone onboard survived.
Eugene Fricks was born on March 26, 1893. His father, William Barto Fricks, was from Georgia and his mother, Mattie Jacquess, was from Kentucky. From the 1920s to the 1930s, Eugene was married to his first wife, Ethel where they had three children named Harley, Imogene, and Mattie. The 1940 census records his marriage to his second wife, Grace, with whom he had two children named Janette and Joseph. He served in World War I. After his service, he had a career in aviation. Later, he retired from Pan-American Airways in 1961 and lived his remaining years in North Fort Myers. He died on May 23, 1976 and is buried in the Florida National Cemetery.
In 2017, the University of Central Florida was one of three universities selected to launch the National Cemetery Administration's
Veterans Legacy Program Project
. The program engaged a team of scholars to make the life stories of veterans buried in the Florida National Cemetery available to the public. The project engages UCF students in research and writing and fosters collaboration between students, faculty and local Central Florida schools to produce interactive curriculum for k-12 students. The corresponding website exhibit uses RICHES Mosaic Interface to create a digital archive of related data. The public can use the project-developed augmented-reality app at more than 100 gravesites at the Florida National Cemetery, where they can access the UCF student-authored biographies of veterans.
Creator
Source
Digital reproduction of original newspaper article: "Eugene Fricks." The Tennessean, December 9, 1928.
Publisher
Date Copyrighted
1928-12-09
Is Part Of
Medium
1 newspaper article
Coverage
Chattanooga, Tennessee
Rights Holder
Copyright to this resource is held by The Tennessean and is provided here by RICHES for educational purposes only.
Curator
Ortiz, Samuel
Cravero, Geoffrey
Digital Collection
Source Repository
Collection
Citation
The Tennessean. "Chattanooga, Tenn.." RICHES of Central Florida accessed December 3, 2023, https://richesmi.cah.ucf.edu/omeka/items/show/10169.
Categories
Transcribe This Item