Certificate of Death for John W. Donaldson, 1946
Files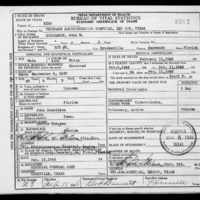 Dublin Core
Title
Certificate of Death for John W. Donaldson, 1946
Alternative Title
Certificate of Death
Subject
World War, 1914-1918
Veterans--Florida
Description
The certificate of death for John W. Donaldson (1897-1946). John was admitted to the Veterans Administration Hospital in Kerr County, Texas, on February 9, 1946, for tuberculosis treatment. After arrival at the hospital, he suffered a cerebral thrombosis and was pronounced dead at 10pm on February 11 at the age of 48. Other information provided on the document included his parents' names and his marriage status.
John W. Donaldson (1897-1946) was born on September 8, 1897, to John F. and Hattie Donaldson in Waldo, Florida. He enlisted in the United States Army in March of 1918, at the age of 20, and was assigned to the Motor Transport Corps of the 5th Division. John trained at Camp Johnston in Jacksonville, Florida, before leaving for New Jersey, where he set sail aboard the USS America on June 10, 1918, and arrived at Brest, France, on June 19, 1918. He spent some time at Camp Pontanezen, a crowded rest camp, where soldiers performed construction work. In France, John served as a chauffeur in the Meuse-Argonne Offensive. During the intense six-week battle, John sustained shrapnel wounds on his left knee and burns on his neck. Before being honorably discharged on May 3, 1920, he rose to the rank of Sergeant Major, the highest rank for a non-commissioned officer. Donaldson returned to Florida after discharge, where he married Archie K. Hughes in 1924, in Winter Haven. In 1929, they had a son named Delbert. The couple divorced in 1931. He visited VA hospitals in North Carolina and Bay Pines, Florida, for tuberculosis treatment. On April 10, 1937, John married again to Lillie May Holloway, but they divorced some time after. John was admitted to the VA hospital in Kerrville, Texas, on February 9, 1946, and died two days later due to cerebral thrombosis. He rests in Bay Pines National Cemetery at Section 11, Row 2, Site 13.
In 2017, the University of Central Florida was one of three universities selected to launch the National Cemetery Administration's
Veterans Legacy Program Project
. The program engaged a team of scholars to make the life stories of veterans buried in the Florida National Cemetery available to the public. The project engages UCF students in research and writing and fosters collaboration between students, faculty and local Central Florida schools to produce interactive curriculum for K-12 students. The corresponding website exhibit uses RICHES Mosaic Interface to create a digital archive of related data. The public can use the project-developed augmented-reality app at more than 100 gravesites at the Florida National Cemetery, where they can access the UCF student-authored biographies of veterans.
Source
Digital reproduction of original certificate of death, February 11, 1946: State Registrar Office, Austin, Texas, certificate number 8907.
Date Created
ca. 1946-02-11
Is Part Of
Medium
1 certificate of death
Coverage
VA Medical Center, Kerrville, Texas
Rights Holder
This resource is not subject to copyright in the United States and there are no copyright restrictions on reproduction, derivative works, distribution, performance, or display of the work. Anyone may, without restriction under U.S. copyright laws:
• reproduce the work in print or digital form
• create derivative works
• perform the work publicly
• display the work
• distribute copies or digitally transfer the work to the public by sale or other transfer of ownership, or by rental, lease, or lending.
This resource is provided here by
RICHES
for educational purposes only. For more information on copyright, please refer to
Section 5
of
Copyright Law of the United States of America and Related Laws Contained in Title 17 of the United States Code
.
Digital Collection
Collection
Citation
Bruce, Paul O. and Bureau of Vital Statistics, Texas Department of State Health Services. "Certificate of Death for John W. Donaldson, 1946." RICHES of Central Florida accessed October 2, 2023, https://richesmi.cah.ucf.edu/omeka/items/show/10687.
Categories
Transcribe This Item