Westside Grammar Elementary School Report Card for Christine Kinlaw, 1963-1964
Dublin Core
Title
Westside Grammar Elementary School Report Card for Christine Kinlaw, 1963-1964
Alternative Title
Westside Grammar School Report Card
Subject
Sanford (Fla.)
Elementary schools--United States
Grammar schools
Report cards
Fourth grade (Education)--United States
Schools
Students--Florida
Description
Westside Grammar Elementary School report card for fourth-grader Christine Kinlaw during the 1963-1964 school year. Students were evaluated in subjects such as reading, language, spelling, handwriting, social studies, arithmetic, science, health education, physical education, music, art, and Spanish. Kinlaw was evaluated by teacher Lucile Campbell and the principal for that school year was Freeman E. Baggett. Sanford High School was originally established at 301 West Seventh Street in 1902. The building was designed by W.G. Talley in the Romanesque revival style. Due to an increasing student population, a new school building was constructed on Sanford Avenue in 1911. The original building on Seventh Street served as Westside Grammar Elementary School, which was later renamed Sanford Grammar School. In 1984, the building was placed on the National Registry of Historic Places and converted into the Student Museum. The building reopened as the University of Central Florida's Public History Center in 2012. In 1927, a high school campus was designed by Elton J. Moughton in the Mediterranean revival style and constructed at 1700 French Avenue. The school reopened on January 10 and was renamed Seminole High School. In 1960, the high school moved to a new campus at 2701 Ridgewood Avenue and the former building on French Avenue was converted to Sanford Junior High School, which was later renamed Sanford Middle School. The old building was demolished in the summer of 1991 and replaced by a $5.77 million school complex. As of 2013, Seminole High School offers various Advanced Placement courses, the Academy for Health Careers, and the International Baccalaureate Programme for students.
Source
Original report card by Lucile Campbell: Private Collection of Christine Kinlaw-Best.
Date Created
ca. 1963-1964
Contributor
Kinlaw-Best, Christine
Is Format Of
Digital reproduction of original report card by Lucile Campbell.
Requires
Medium
4-page report card
Coverage
Westside Grammar Elementary School, Sanford, Florida
Provenance
Originally created by Lucile Campbell.
Rights Holder
Copyright to this resource is held by Christine Kinlaw-Best and is provided here by
RICHES of Central Florida
for educational purposes only.
Digital Collection
Source Repository
Private Collection of Christine Kinlaw-Best
External Reference
Transcript
Seminole County Public Schools
Westside Grammar SCHOOL
Sanford, Florida
SCHOOL YEAR 1963-1964

REPORT OF Christine Kinlaw
GRADE 4
TEACHER Lucile Campbell
PRINCIPAL Freeman Baggett


TO PARENT OR GUARDIAN:
You are urged to study carefully this report of your child's progress in terms of educational, physical, social and emotional growth.
Conferences with the principal and teacher will help to understand your child better and to plan together for his continuous development. Please arrange conferences in advance.
After making a careful study of the information this report contains, please sign the card in the space indicated and return it promptly.

R. T. MILWEE
Superintendent of Public Instruction


COMMENTS
1ST SIX WEEKS
Christine is a good student but she and Debra have talked too much. She has done better since I moved her. She has improved in science and Spanish. In reading I am asking for extra reports on supplementary readers from her group. "E" is for extra work.

2ND SIX WEEKS
Christine has done much better. She is still not doing her best but she has had a sore throat and had to miss so much.

3RD SIX WEEKS
Christine has improved in history and in science. If she will keep improving on her reading workbook we can bring her reading grade up to an "E". All Weekly Readers should be accurately done with her name on the back and front of the paper. She made 96 on her final test in arithmetic, but other papers were carelessly done.

4TH SIX WEEKS
Christine has improved, but she is just too sociable to concentrate as she should. I wish we could do something to prevent those frequent throat attacks. She hasn't had a chance to do her best.

5TH SIX WEEKS
Considering the amount of time she has been absent Christine has done well. Hope she won't have to miss any more.
Document Item Type Metadata
Original Format
4-page report card
Files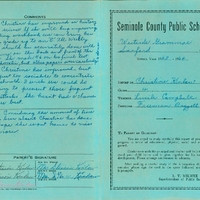 Collection
Citation
Campbell, Lucile. "Westside Grammar Elementary School Report Card for Christine Kinlaw, 1963-1964." RICHES of Central Florida accessed December 3, 2022, https://richesmi.cah.ucf.edu/omeka/items/show/1516.
Categories
Transcribe This Item