Skull of Lewis Thornton Powell
Dublin Core
Title
Skull of Lewis Thornton Powell
Alternative Title
Lewis Thornton Powell Skull
Subject
Confederate States of America
American Civil War
Civil War, U. S., 1861-1865
Description
The skull of Lewis Thornton Powell. Also know by the alias "Lewis Paine" or "Lewis Payne," Powell was born on April 22, 1844 in Randolph County, Alabama. He was the son of Reverend George Cader Powell, the founder of Baptist Church in Oviedo, Florida, and also the first pastor of the Geneva Baptist Church, and Patience Caroline Powell. The Powell family migrated to Georgia when Lewis was three and later to Live Oak in 1859 when he was 15.

During the Civil War, Lewis Powell fought with the Conferderacy's Second Florida Infantry, Company I and was wounded and captured at the Battle of Gettysburg in Pennsylvania. He was sent to a Union hospital in Pennsylvania and later in Baltimore, Maryland. However, Powell escaped the hospital and joined the Confederacy's 43rd Battalion Virginia Calvary.

In 1864, he joined the Confederate Secret Service and then returned to Baltimore on January 13, 1865. On April 13, 1865, Powell met with John Wilkes Booth, George Atzerodt, and David Herold to conspire to assassinate President Abraham Lincoln and his associates. Powell was designated to assassinate Secretary of State William H. Seward, while Atzerody was designated to assassinate Vice President Andrew Johnson and Booth planned to assassinate Lincoln. Powell went to Seward's house to "deliver a letter," but there was a skirmish and, in the end, he stabbed and injured Seward, but failed to kill him.

Captured and tried, he was found guilty of conspiracy to commit murder and treason, and hanged with the other conspirators on July 7, 1865. His body was buried in the prison courtyard and moved several times. At some point, a caretaker removed the skull, which ended up in the Ford Theater Museum. It was later taken to the Smithsonian's Department of Anthropology. In the 1990s, when Native American tribes requested that the Smithsonian return the bones of Native Americans for a proper burial, a skull was found with a tag identifying it as belonging to Lewis Thornton Powell. In 1994, the skull was brought to Geneva, where his surviving nearest relative lived. A service was held and the skull was buried in the Geneva Cemetery near the grave of his mother, Patience Caroline Powell. His body was buried in a pauper's grave outside of Washinton, D.C.
Creator
Source
Original 4 x 6 inch color photograph by
The Smithsonian
: Powell File: Museum of Geneva History, Geneva, Florida.
Is Format Of
Digital reproduction of original 4 x 6 inch color photograph.
Medium
4 x 6 inch color photograph
Contributing Project
Digital Collection
Source Repository
External Reference
Still Image Item Type Metadata
Original Format
1 color photograph
Physical Dimensions
4 x 6 inch
Files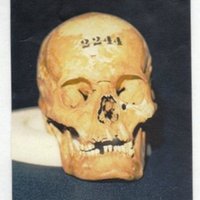 Citation
The Smithsonian. "Skull of Lewis Thornton Powell." RICHES of Central Florida accessed August 15, 2022, https://richesmi.cah.ucf.edu/omeka/items/show/1609.
Categories
Transcribe This Item