St. Paul Missionary Baptist Church Bell
Dublin Core
Title
St. Paul Missionary Baptist Church Bell
Alternative Title
St. Paul Missionary Baptist Church
Subject
Sanford (Fla.)
Churches--Florida
Baptists--Florida
Baptist Church
Description
St. Paul Missionary Baptist Church, located at 813 Pine Avenue in Sanford, Florida in 2011. Considered the oldest African-American Baptist church in Sanford, Florida, St. Paul Missionary Baptist Church was first organized under an arbor brush in 1878. Construction of the first church building began in 1880 on land purchased from General Henry S. Sanford and his wife Gertrude in November of 1881. The church was a small wooden structure administered by its first settled pastor, Reverend Paul Youmans, until 1886. A new, larger church was constructed in 1889 and served the congregation until its condemnation in 1958. After the church was condemned, members of the congregation held services at Hopper Elementary for approximately one month. Following the use of the elementary school, the congregation met at the Seventh Day Adventist Church located on the corner of Pine Avenue and East Seventh Street. After the completion of their current church, the congregation finally relocated to their new building on February 5, 1961. This church structure stands at the same location of the initial church's small wooden building, and continues to demonstrate deep pride within their community's faith, history, and involvement.
Creator
MacDonald, Kathleen
Source
Original color digital image by Kathleen A. MacDonald, August 3, 2011.
Publisher
RICHES of Central Florida
Medium
Born digital image
Coverage
Sanford, Florida
Spatial Coverage
28.804809, -81.262503
Temporal Coverage
2011-08-03/
Accrual Method
Item Creation
Audience Education Level
SS.K.A.1.2
SS.1.A.1.1
SS.2.A.1.1
SS.2.C.2.5
SS.3.A.1.1
SS.3.A.1.2
SS.3.G.4.4
SS.4.A.1.1
SS.5.A.1.1
SS.6.W.1.3
SS.8.A.1.5
SS.8.A.2.7
SS.912.A.1.2
SS.912.W.1.3
Provenance
Originally created by Kathleen MacDonald and owned by RICHES of Central Florida.
Rights Holder
RICHES of Central Florida
Curator
MacDonald, Kathleen
Digital Collection
RICHES MI
External Reference
Bentley, Altermese Smith. History of the First South Florida Missionary Baptist Association, 1888-1988. Chuluota, Fla: Published for the Association by Mickler House Publishers, 1988.
Joiner, E. Earl. A History of Florida Baptists. Jacksonville, Fla: Printed by Convention Press, 1972.
Flewellyn, Valada S. African Americans of Sanford. Charleston, SC: Arcadia Pub, 2009.
Still Image Item Type Metadata
Original Format
1 color digital image
Files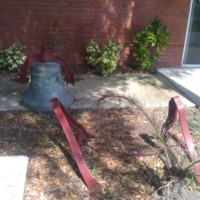 Collection
Citation
MacDonald, Kathleen. "St. Paul Missionary Baptist Church Bell." RICHES of Central Florida accessed January 29, 2023, https://richesmi.cah.ucf.edu/omeka/items/show/2256.
Categories
Transcribe This Item