Letter Template from Representative Louis Frey, Jr., 1972
Files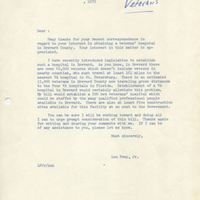 Dublin Core
Title
Letter Template from Representative Louis Frey, Jr., 1972
Alternative Title
Letter Template from Rep. Lou Frey (1972)
Subject
Frey, Lou, 1934-
Brevard County (Fla.)
Congress
Veterans--Florida
Hospitals--Florida
Description
A draft of a stock response letter from U.S. Representative Louis Frey, Jr. (1934-2019) to constituents who expressed their opinion that Brevard County, Florida, needed a U.S. Department of Veterans Affairs (VA) hospital.

Re. Lou Frey served in the U.S. House of Representatives from 1969 to 1979. He was on several committees during his time in office, including the Select Committee on Narcotics Abuse and Control and the Science and Technology Committee. He was also the chairman of the Young Republicans of Florida. During his tenure, Central Florida had a very large veteran population but insufficient VA medical facilities. For example, the closest VA hospital to Brevard County was in St. Petersburg. To more sufficiently care for the needs of veterans in his district, Rep. Frey introduced multiple bills to Congress that would establish a VA hospital in Brevard County, although none of his bills were passed.
Is Format Of
Digital reproduction of original letter template from Lou Frey, Jr., 1972.

Medium
1-page typewritten letter

Coverage
Brevard County, Florida
St. Petersburg, Florida
Mediator
History Teacher
Civics/Government Teacher
Provenance
Originally created by Lou Frey, Jr.

Contributing Project
Curator
Mayer, Erica

Cepero, Laura
Digital Collection
External Reference
Transcript
Verterans'

, 1972

Dear :

Many thanks for your recent correspondence in regard to your interest in obtaining a veterans' hospotal in Brevard County. Your interest in this matter is appreciated.

I have recently introduced legislation to establish such a hospital in Brevard. As you know, in Brevard there are over 40,000 veterans which doesn't include veterns in nearby counties, who must travel at least 161 miles to the nearest VA hospital in St. Petersberg. There is an estimated 15,000 veterans in Brevard County now traveling great distances to the four VA hospitals in Florida. Establishment of a VA hospital in Brevard would certainly alleviate this problem. My bill would establish a 500 bed veterans' hospital which could be staffed by the many qualified professional people available in Brevard. There are also at least five construction sites available for this facility at no cost to the Government.

You can be sure I will be working toward and doing all I can to urge prompt consideration of this bill. Thanks again for writing and sharing your comments with me. If I can be of any assistance to you, please let me know.

Most sincerely,

Lou Frey, Jr.

LFJr/kah
Document Item Type Metadata
Original Format
1-page typewritten letter

Citation
Frey, Lou, Jr. . "Letter Template from Representative Louis Frey, Jr., 1972." RICHES of Central Florida accessed September 26, 2023, https://richesmi.cah.ucf.edu/omeka/items/show/3463.
Categories
Transcribe This Item