Florida From the House...To Your Home Newsletter, January 1974
Files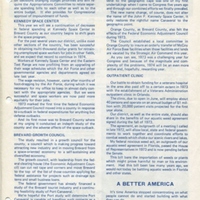 Dublin Core
Title
Florida From the House...To Your Home Newsletter, January 1974
Alternative Title
Florida From the House...To Your Home Newsletter
Subject
Brevard County (Fla.)
Port Canaveral (Fla.)
Orange County (Fla.)
Orlando (Fla.)
Hospitals--Florida
Veterans--Florida
Air Force
National Aeronautics and Space Administration (U.S.)
NASA
Description
One page from the Florida From the House...To Your Home newsletter mailed to citizens of the 9th Congressional District of Florida, represented by Representative Louis Frey, Jr. (1934-2019), who served in the U.S. House of Representatives from 1969 to 1979. He was on several committees during his time in office, including the Select Committee on Narcotics Abuse and Control and the Science and Technology Committee. He was also the chairman of the Young Republicans of Florida.

The first article discusses federal spending at John F. Kennedy Space Center (KSC) in Merritt Island, Florida. Rep. Frey states that workers at KSC and the Eastern Test Range were profiting from the upgrade of their wage schedules. According to the article, the Economic Adjustment Council, at Rep. Frey's urging, conducted an in-depth study of Brevard County and the adverse effects of federal spending cuts to the national space program.

The second article continues by discussing the Brevard Growth Council, which was spawned as a result of the Economic Adjustment Council's study. The growth council focused on "attracting new industry and [o]n moving Brevard from a space-oriented economy to a self-sustaining and diversified economy." The council's actions included a study of the tourist industry in Brevard, a continuing feasibility study of Port Canaveral, and the restoration of the name "Canaveral" to the Cape.

The establishment of a Veterans' Administration (VA) outpatient clinic in Orlando is the subject of the third article. Although Central Florida was the home of a large number of veterans, the region did not have a VA hospital and its other medical facilities were also largely outdated. Attempts to obtain approval to build a VA hospital in Central Florida were initially unsuccessful. Politicians like Rep. Frey attempted to pass legislation in order to establish such a hospital. An outpatient clinic was built in Orlando in the early 1970s as the issue of VA medical facilities became more prevalent due to these legislative efforts. The clinic both provided more sufficient medical care for the area's veterans and created new jobs for residents.

The final article, which begins on this page and is continued on another page, is about Rep. Frey's efforts to establish a White House Conference on the Handicapped.
Source
Original newsletter:
Florida From the House...To Your Home
, December 1975: Lou Frey Papers, box 11,
Lou Frey Institute of Politics & Government
, Special Collections and University Archives, University of Central Florida, Orlando, Florida.
Is Format Of
Digital reproduction of original newsletter: Florida From the House...To Your Home, December 1975.
Coverage
John F. Kennedy Space Center, Titusville, Florida
Brevard County, Florida
Port Canaveral, Florida
Orange County, Florida
Orlando, Florida
Mediator
History Teacher
Civics/Government Teacher
Economics Teacher
Geography Teacher
Provenance
Originally published by Lou Frey, Jr.
Contributing Project
Curator
Mayer, Erica
Cepero, Laura
Digital Collection
External Reference
Transcript
Outpatient Clinic
Our battle to obtain funding for a veterans hospital in the area also paid off to a certain extent in 1973 with the establishment of a Veterans Administration outpatient clinic in Orlando.
The clinic, due to open in June, will employ about 40 persons and operate on an annual budget of $1 million with 20,000 patient visits projected for the first year alone.
Our district, as well as the entire state, should also share in the benefits of our aquatic weed agreement signed during the fall of 1973.The agreement, an outgrowth of a meeting I called in late 1972, will allow local, state and federal governments to work together and coordinate efforts to combat weeds which choke our scenic rivers and lakes.
My federal noxious weed act, an outgrowth of our aquatic weed agreement in Florida, passed the House of Representatives in 1973 and is now pending before the Senate.
This bill bans the importation of weeds or plants which might prove harmful to man or his environment. Had this bill been law many years ago, we would not today be battling aquatic weeds in Florida and other states.
Document Item Type Metadata
Original Format
1 newsletter

Citation
"Florida From the House...To Your Home Newsletter, January 1974." RICHES of Central Florida accessed December 1, 2023, https://richesmi.cah.ucf.edu/omeka/items/show/3614.
Categories
Transcribe This Item