Letter from Anna M. Sperry DeForest to Henry L. DeForest (November 3, 1881)
Dublin Core
Title
Letter from Anna M. Sperry DeForest to Henry L. DeForest (November 3, 1881)
Alternative Title
Letter from Anna DeForest to Henry DeForest (November 3, 1881)
Subject
Sanford (Fla.)
Derby (Conn.)
Description
Personal letter from Anna M. Sperry DeForest to her husband, Henry L. DeForest (1857-1902). In the letter, Anna discusses the weather, Mr. Day and Ed Shelton, and her son with DeForest.

DeForest was born in Derby, Connecticut, and knew Henry Shelton Sanford since childhood. In 1870, DeForest came to Florida seeking better health in the warmer climate. He became Sanford's agent and helped carry out the work of establishing Sanford. He managed the contracted workers for Sanford's groves, especially the contracted Swedes that Sanford brought over in 1871. By the 1880s, he had married Anna M. Sperry, also from Derby, and had become an established businessman and grove owner in Sanford. He built his general store in 1887, which was the second oldest brick building in Downtown Sanford. His general store was the building where the historic September 1887 fire stopped. DeForest built other commercial buildings in downtown. His home, known as "The Palms," was located at 105 Aldean Drive and still stands today.
Creator
DeForest, Anna M. Sperry
Source
Original letter from Anna M. Sperry DeForest to Henry L. DeForest, November 3, 1881: DeForest Collection,
Sanford Museum
, Sanford, Florida.
Is Format Of
Digital reproduction of original letter from Anna M. Sperry DeForest to Henry L. DeForest, November 3, 1881.
Requires
Medium
3 page handwritten letter and envelope
Coverage
Derby, Connecticut
Sanford, Florida
Mediator
History Teacher
Geography Teacher
Provenance
Originally created by Anna M. Sperry DeForest.
Curator
Hazen, Kendra
Cepero, Laura
Digital Collection
Source Repository
External Reference
Sanford Historical Society (Fla.).
Sanford
. Charleston, SC: Arcadia, 2003.
Transcript
My dear Henry-
My dear old fellow
how I wish I was with
you but – I am thankful to
write you Henry is better
and so when he is well
I feel as if it could not
?e long before I was you
[?] [?] I wish the "long" could
Be counted by hours _ Well
some day it may be.
I am so sorry he has had
this poor spell for I shall
feel more an[?] [?] wait
for cooler weather for him
but we have had so little
that we can call real
cool weather yet. I am so
hopeful we shall have a few
pleasant days soon. We have
had rain every day except Sun
day since Saturday and of
course it is pleasant for us
all [?] [?]?k the springs will
fill and there will not be a
dearth of water all winter
here on the hill they have
fun using for some
time rain water for every
thing some of the time
the bucket do not dip now
in the well. I have not
heard from Mr Day
yet I tried to get his
address but could not
from Ed Shelton for he was
away_ I hope it will not
be long before I see him-
[?]-will seem as if I had
got back to Sanford when
I do. How I long to be
there_ Well_ I musn't complain
as I said before. I only ask
for my dear husband com-
fort and oru darling boy's
life_ Well _ I only can
trust in our Heavenly
Father's care for his creatures
and that he will watch
over us and be with us
Wherever we may be_
God bless and keep
You darling and may
I be with you very
soon dear dear husband
Lovingly Yours
Anna

BIRMINGHAM CONN.
NOV 3
3PM

Mrs. Henry L. DeForest
Sanford, Florida.

[?] [?]
NOV 3 81
9:30 PM
Document Item Type Metadata
Original Format
3-page handwritten letter and envelope
Files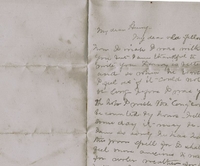 Collection
Citation
DeForest, Anna M. Sperry. "Letter from Anna M. Sperry DeForest to Henry L. DeForest (November 3, 1881)." RICHES of Central Florida accessed March 26, 2023, https://richesmi.cah.ucf.edu/omeka/items/show/4219.
Categories
Transcribe This Item