Map of St. Lucie County, 1911
Dublin Core
Title
Map of St. Lucie County, 1911
Alternative Title
St. Lucie County Map
Subject
Fort Pierce (Fla.)
St. Lucie County (Fla.)
St. Lucie (Fla.)
Sebastian (Fla.)
Orchid (Fla.)
Vero (Fla.)
Indian River (Fla.)

Stuart (Fla.)
Hutchinson Island (Fla.)
Sewall's Point (Fla.)
Description
A map of St. Lucie County, Florida, in 1911. Present-day St. Lucie County was originally inhabited by the Ais tribe. During the early 19th century, Spain issued a 2,000 land grant to James Hutchinson, but the area remained largely uninhabited. During the mid-19th century, Seminoles and runaway slaves took refuge in the area. The county seat, Fort Pierce, was established in 1837 during the Second Seminole War and named after Lieutenant Colonel Benjamin K. Pierce. Under the Armed Occupation Act, the U.S. government began issuing land grants to American settlers. Fort Capron was established in present-day St. Lucie Village during the Third Seminole War in 1851.

Henry Flagler's (1830-1913) railroad system expanded to the present-day St. Lucie County area in the 1890s, allowing the area's pineapple, fishing, seafood canning, and cattle industries to expand. Citrus became another prosperous industry in the area during the early 20th century. St. Lucie County was officially created from the southern portion of Brevard County in 1905. Indian River County separated to form its own county in 1925 and Martin County was established from the southeastern portion of St. Lucie County and the northern portion of Palm Beach County that same year. The western part of the county was used to form Okeechobee County in 1917.

St. Lucie County benefited from Florida's land boom in the 1920s, but was also affected by Florida's bust in 1929 and the Great Depression in the 1930s. During World War II, the U.S. Naval Amphibious Training Base was established in Fort Pierce, marking the beginning of the county's population boom that would last throughout the 1950s. St. Lucie County saw a population boom in the late 20th century. In the 21st century, the county was devastated by two major hurricanes in 2004 and from the financial collapse beginning in 2008.
Source
Digital reproduction of original color map: Rand McNally, 1911:
Exploring Florida Maps
, Florida Center for Instructional Technology, University of South Florida, Tampa, Florida.
Publisher
Date Copyrighted
ca. 2001-2012
Contributor
Winkelman, Roy
Is Format Of
Original color map: Rand McNally, 1911: Private Collection of Roy Winkelman.

Is Part Of
Exploring Florida Maps
, Florida Center for Instructional Technology, University of South Florida, Tampa, Florida.
Coverage
Fort Pierce, Florida
Port St. Lucie, Florida
Sebastian, Florida
Orchid, Florida
Vero, Florida
Indian River, Florida
Stuart, Florida
Hutchinson Island, Florida
Eldred, Florida
Viking, Florida
Oslo, Florida
Micco, Florida
Gifford, Florida
Olney, Florida
White City, Florida
Ankona, Florida
Jensen, Florida
Tantie, Florida
Sewall's Point, Florida
Stanwood, Florida
Narrows, Florida
Toledo, Florida
Rio, Florida
Fort Van Swearinger, Florida
Fort Vinton, Florida
Mediator
History Teacher
Geography Teacher
Curator
Moore, Samantha
Cepero, Laura
External Reference
St. Lucie County: History Alive
. Fort Pierce, Fla: St. Lucie County Historical Commission in cooperation with St. Lucie County Leisure Services, St. Lucie County Public Schools, and the St. Lucie Historical Society, 2000.
Transcript
ier[?]
Micco
River[?]
Sebastian
Orchid
Stanwood
r[?]
Toledo
Narrows
Gifford
Olney[?]
ST. LUCIE
Vero
mee[?]
Fort Vinton
Oslo
Viking
Indian River Inlet
St. Lucie
St. Lucie Sd
Fort Pierce
HUTCHINSON ISLAND
enger[?]
Eldred
White City
Tantie
Ankona
River[?]
Fort Van Swearinger
Jensen
Rio
Eagle [illegible]
Stuart
Sewalls

Still Image Item Type Metadata
Original Format
1 color map
Files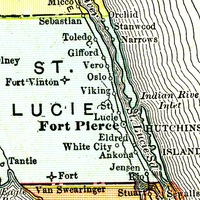 Collection
Citation
"Map of St. Lucie County, 1911." RICHES of Central Florida accessed December 4, 2022, https://richesmi.cah.ucf.edu/omeka/items/show/5138.
Categories
Transcribe This Item