Astronaut William R. Pogue Training for Skylab 4
Dublin Core
Title
Astronaut William R. Pogue Training for Skylab 4
SL-4
Alternative Title
William R. Pogue Training for Skylab 4
SL-4
Subject
Lyndon B. Johnson Space Center
Johnson Space Center
National Aeronautics and Space Administration (U.S.)
NASA
Astronauts--United States
Skylab Program
Pogue, William R.
Pogue, Bill, 1930-2014
Description
Command Module Pilot William R. Pogue (1930-2014) training for Skylab 4 (SL-4) at Lyndon B. Johnson Space Center in Houston, Texas. As Project Apollo was winding down and the final three missions (Apollo 18, Apollo 19, and Apollo 20) were canceled, the National Aeronautics and Space Administration (NASA) looked for ways to repurpose launch vehicles and other equipment. Out of this, Skylab and three space science missions were born. Skylab was conceived by famed rocket designer, Wernher von Braun (1912-1977), to use an unused upper-stage fuel tank and convert it to an orbital laboratory. This was necessitated by NASA's budget being slashed. With the tank becoming the basis of the space station, NASA added solar arrays, a docking adapter, and a space observatory. The Skylab missions were constituted of one mission to put the station in space (Skylab 1), using a modified and last Saturn V to launch, and three crewed missions (Skylab 2, Skylab 3, and Skylab 4) to occupy the lab and perform science, using the smaller Saturn IB booster to launch the three astronaut crews. When launched on May 14, 1973, the station encountered problems immediately. A micrometeoroid shield prematurely deployed and tore off one of the two main solar arrays. NASA engineers went to work and were able to save Skylab and the three crewed missions. Each of the subsequent missions set what were then endurance records for living in space and conducted substantial space science experiments. NASA tried to keep Skylab in orbit after Skylab 4 (SL-4) and until the Space Shuttle could boast its orbit, but with a decaying orbit, it crashed on July 11, 1979. Skylab 4 (SL-4) was launched from Launch Complex 39B on November 16, 1973, using what was jokingly referred to as a "milk stool" to adapt the launcher to the smaller Saturn IB booster. Skylab 4 (SL-4)'s crew consisted of Mission Commander Gerald P. Carr (1932-), Pogue, and Science Pilot Edward Gibson (1936-). The mission set a then endurance record of more than 84 days in space.
Source
Original black and white photographic print, October 18, 1973: Space Walk of Fame Collection.
Contributor
Is Format Of
Digital reproduction of original black and white photographic print, October 18, 1973.
Medium
1 black and white photographic print
Coverage
Lyndon B. Johnson Space Center, Houston, Texas
Mediator
History Teacher
Civics/Government Teacher
Contributing Project
Curator
Michlowitz, Robert
Cepero, Laura
Digital Collection
Still Image Item Type Metadata
Original Format
2 black and white photographic prints
Files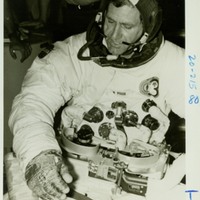 Collection
Citation
"Astronaut William R. Pogue Training for Skylab 4." RICHES of Central Florida accessed February 7, 2023, https://richesmi.cah.ucf.edu/omeka/items/show/5874.
Categories
Transcribe This Item