Former Crystal Ice Company and Sanford Public Service Building
Files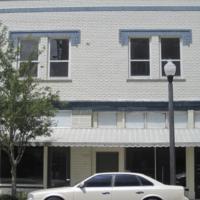 Dublin Core
Title
Former Crystal Ice Company and Sanford Public Service Building
Alternative Title
Crystal Ice Co. and Sanford Public Service
Subject
Buildings--Florida
Ice industry--United States
Sanford (Fla.)
Ice-houses
Description
The former Crystal Ice Company building, which was located at 110 South Park Avenue in Sanford, Florida. The Crystal Ice Company was located here in 1915, and the Sanford Public Service ice house moved in by 1917. By 1922, the building became an ice storage shop. At the time that this photograph was taken in July 2011, the building was vacant.

By the beginning of the twentieth century, most ice houses consisted of two stories with the first floor used as food storage and the second floor used to store the ice. Ice houses provided blocks of ice for home ice boxes and allowed agricultural businesses to transport their fruits and vegetables in refrigerated vehicles.
Source
Original color digital image by Laura Cepero, July 28, 2011.
Publisher
Medium
1 color digital image
Coverage
Sanford, Florida
Spatial Coverage
28.810881, -81.267994
Temporal Coverage
1915-01-01/1917-12-31
Accrual Method
Item Creation
Audience Education Level
SS.K.A.1.2; SS.K.G.2.1; SS.1.A.1.1; SS.1.E.1.3; SS.1.E.1.4; SS.1.G.1.5; SS.2.A.1.1; SS.2.G.1.2; SS.3.A.1.1; SS.3.G.1.1; SS.3.G.2.6; SS.4.A.1.1; SS.4.A.6.1; SS.4.E.1.2; SS.5.A.1.1; SS.5.G.1.4; SS.6.W.1.3; SS.8.A.1.5; SS.8.A.4.6; SS.912.A.1.1; SS.912.A.1.6; SS.912.A.3.4; SS.912.A.4.11; SS.912.G.1.2; SS.912.G.1.4; SS.912.W.1.3; SS.912.W.6.1
Mediator
History Teacher
Economics Teacher
Geography Teacher
Rights Holder
Contributing Project
Digital Collection
Source Repository
External Reference
Hiles, Theron L. The Ice Crop, How to Harvest, Store, Ship and Use Ice: A Complete Practical Treatise for Farmers, Dairymen, Ice Dealers, Produce Shippers, Meat Packers, Cold Storers, and All Interested in Ice Houses, Cold Storage and the Handling or Use of Ice in Any Way. New York: Orange Judd Company, 1893.
Sanford, Florida City Directory, 1915. Richmond, Virginia: R.L. Polk & Co., 1915.
Sanford, Florida City Directory, 1917. Richmond, Virginia: R.L. Polk & Co., 1917.
Sanford Historical Society, Inc. Sanford. Charleston, South Carolina: Arcadia Publishing, 2003.
External Reference Title
Still Image Item Type Metadata
Original Format
1 color digital image
Collection
Citation
Cepero, Laura. "Former Crystal Ice Company and Sanford Public Service Building." RICHES of Central Florida accessed September 21, 2023, https://richesmi.cah.ucf.edu/omeka/items/show/601.
Categories
Transcribe This Item