Honorable Forrest Lake
Files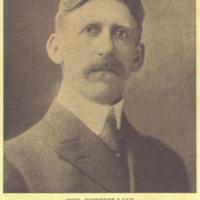 Dublin Core
Title
Honorable Forrest Lake
Alternative Title
Forrest Lake
Subject
Sanford (Fla.)
Mayors--Florida
Politicians--Florida
Businessmen--United States
Ice industry--United States
Newberry (S.C.)
Miami (Fla.)
Santiago (Cuba)
Description
Newspaper article about and portrait of businessman and politician, Forrest Lake around 1910. Forrest Lake first arrived in Sanford, Florida in the 1880s. Lake was known as a local politician and later a member of state government. One of his most well known successes in politics was the passing of the bill that created Seminole County in 1913. Throughout the early- to mid-1920s, Lake owned an icehouse, founded Seminole County Bank, and established the Hotel Forrest Lake. By the end of the Florida real estate boom, Lake suffered many financial loses when the hotel went bankrupt and he was accused of bank fraud. In 1928, Lake went through a series of trials related to the bank fraud scandal and was later sent to state prison for fourteen years. Lake only served six years and lived the rest of his life in Sanford. He died in 1939.
Creator
Woodruff, Edward Talcot
Has Part
Original black and white photograph.
Is Part Of
Medium
1 newspaper article
1 black and white photograph
Coverage
Newberry, South Carolina
Sanford, Florida
Miami, Florida
Santiago de Cuba, Cuba
Spatial Coverage
34.274808, -81.618662
28.8000, -81.2667
25.78969, -80.226345
20.031419, -75.829239
Temporal Coverage
1869-07-15/1910-11-25
Audience Education Level
SS.K.A.1.1; SS.K.A.1.2; SS.K.A.3.1; SS.1.A.1.1; SS.1.A.3.1; SS.1.A.3.2; SS.1.E.1.4; SS.2.A.1.1; SS.2.A.3.1; SS.3.A.1.1; SS.4.A.1.1; SS.4.A.6.1; SS.4.A.6.3; SS.4.E.1.1; SS.4.E.1.2; SS.5.A.1.1; SS.5.A.6.2; SS.6.W.1.1; SS.6.W.1.3; SS.7.C.3.9; SS.7.C.3.14; SS.7.E.2.4; SS.8.A.1.2; SS.8.A.1.5; SS.8.A.4.3; SS.8.A.4.8; SS.8.E.2.1; SS.8.E.2.3; SS.912.A.1.1; SS.912.A.1.3; SS.912.A.1.4; SS.912.A.1.6; SS.912.A.3.1; SS.912.A.3.2; SS.912.A.3.4; SS.912.A.3.6; SS.912.E.2.3; SS.912.W.1.1; SS.912.W.1.3; SS.912.W.1.6; SS.912.W.6.2
Mediator
History Teacher
Civics/Government Teacher
Economics Teacher
Contributing Project
Digital Collection
Source Repository
External Reference
Sanford Historical Society, Inc. Sanford. Charleston, South Carolina: Arcadia Publishing, 2003.
Gilmartin, Daniel O. "Mayor Forrest Lake of Sanford." Florida Historical Quarterly74, No. 4 (Spring, 1996), pp. 391-404.
The Seminole Herald. Sanford: Our First 125 Years. [Sanford, FL]: The Herald, 2002.
"Sanford: a Brief History." City of Sanford. http://www.sanfordfl.gov/index.aspx?page=48.
External Reference Title
Transcript
HON. FORREST LAKE

Forrest Lake was born in Newberry, S. C., on the 15th day of July, 1869. He came to Florida at the age of 17 to make his own way in life. At the age of 24 be was elected Mayor of Sanford, and was elected for four successive terms. It was during Mr. Lake's administration that the first bonds were voted for and the first street paving commenced.
On October 25. 1895, he married Miss Maude Anno, of Orlando, Fla. During the year 1897 he moved to Miami, where he lived for two years, In the year 1899 he moved to Santiago, Cuba, to engage in the manufacture of ice. He resided in Cuba for eight years, doing a most successful business. In 1907 he returned to Sanford, and during the same year was elected Mayor of the city, which office he has held ever since. The miles of cement walk, numerous paved streets, thrift, tidiness and improvements all through the town have come about during Mayor Lake's regime.

Still Image Item Type Metadata
Original Format
1 newspaper article with 1 black and white photograph
Collection
Citation
Woodruff, Edward Talcot. "Honorable Forrest Lake." RICHES of Central Florida accessed December 5, 2023, https://richesmi.cah.ucf.edu/omeka/items/show/604.
Categories
Transcribe This Item