Laborers at Hunter Ice & Fuel Company
Files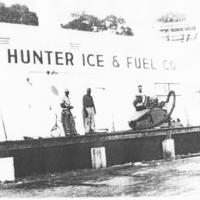 Dublin Core
Title
Laborers at Hunter Ice & Fuel Company
Alternative Title
Hunter Ice & Fuel Co. Laborers
Subject
Sanford (Fla.)
Ice industry--United States
Fuel--United States
Buildings--Florida
Laborers
Workers
Employees--Florida
Description
The Hunter Ice & Fuel Company, formerly located at 700 West Thirteenth Street in Sanford, Florida, sometime between 1952 and 1959. Prior to starting an ice manufacturing business in Sanford, owner Duval W. Hunter, Sr., operated an ice house in North Carolina which supplied ice for in-home use. In 1952, the Hunter moved his ice manufacturing business to Sanford because of the higher demand to cool and preserve agricultural goods. Prior to ice manufacturing, states along the east coast of the United States relied on harvested ice from frozen lakes and ponds shipped from New England. Many southern states during the 1860s began relying on ice manufacturing once the shipment of harvested ice from the northern states ceased. During the late-1800s, individual ice factories were comprised of a machine room, boiler room, ice store, loading platforms, and other office space. Large cans were used to mold the ice. When ice was needed, workers would operate a crane system to carry the ice block into a warm water bath where the ice could be removed from the reusable can.
Source
Original black and white photograph: Ice Collection,
Sanford Museum
, Sanford, Florida.
Is Format Of
Digital reproduction of original black and white photograph.
Medium
1 black and white photograph
Coverage
Sanford, Florida
Spatial Coverage
28.801029, -81.274587
Temporal Coverage
1952-01-01/1959-12-31
Audience Education Level
SS.K.A.1.2; SS.K.E.1.1; SS.K.G.2.1; SS.1.A.1.1; SS.1.A.2.2; SS.1.E.1.4; SS.1.G.1.5; SS.2.A.1.1; SS.2.G.1.2; SS.3.A.1.1; SS.3.G.1.1; SS.3.G.2.6; SS.4.A.1.1; SS.4.E.1.2; SS.5.A.1.1; SS.5.G.1.4; SS.6.W.1.3; SS.7.G.2.3; SS.8.A.1.2; SS.8.A.1.5; SS.8.G.4.4; SS.912.A.1.1; SS.912.A.1.4; SS.912.A.6.15; SS.912.A.7.1; SS.912.A.7.14; SS.912.A.7.17; SS.912.G.1.2; SS.912.G.1.4; SS.912.G.2.1; SS.912.W.1.3
Mediator
History Teacher
Economics Teacher
Geography Teacher
Contributing Project
Digital Collection
Source Repository
<a href="http://www.sanfordfl.gov/index.aspx?page=456" target="_blank">Sanford Museum</a>
External Reference
Roen, Sara. "Ice House Is A Hot Business In Sanford." The Orlando Sentinel, June 16, 1985. http://articles.orlandosentinel.com/1985-06-16/news/0310010244_1_lots-of-ice-hunter-ice-house.
Wallis-Tayler, Alexander James. Refrigeration, Cold Storage and Ice-making: A Pratical Treatise on the Art and Science of Refrigeration. London: Crosby Lockwood and Son, 1902.
Weightman, Gavin. The Frozen-Water Trade: A True Story. New York: Hyperion, 2003.
Hiles, Theron L. The Ice Crop, How to Harvest, Store, Ship and Use Ice: A Complete Practical Treatise for Farmers, Dairymen, Ice Dealers, Produce Shippers, Meat Packers, Cold Storers, and All Interested in Ice Houses, Cold Storage and the Handling or Use of Ice in Any Way. New York: Orange Judd Company, 1893.
External Reference Title
Transcript
Hunter Ice & Fuel Co.
Still Image Item Type Metadata
Original Format
1 black and white photograph
Collection
Citation
"Laborers at Hunter Ice & Fuel Company." RICHES of Central Florida accessed November 29, 2023, https://richesmi.cah.ucf.edu/omeka/items/show/606.
Categories
Transcribe This Item