Ice House Controversy Melts Into Compliance
Dublin Core
Title
Ice House Controversy Melts Into Compliance
Alternative Title
Ice House Controversy
Subject
Sanford (Fla.)
Ice industry--United States
Fuel--United States
Buildings--Florida
Description
Newspaper article on City of Sanford's failed efforts to condemn the dilapidated Hunter Ice and Fuel Company building located at 700 West Thirteenth Street in 2007. According the the article, the building's owner, John McFarland, could avoid having the factory condemned if he complies with city building codes.

Prior to starting an ice manufacturing business in Sanford, owner Duval W. Hunter, Sr., operated an ice house in North Carolina which supplied ice for in-home use. In 1952, the Hunter moved his ice manufacturing business to Sanford because of the higher demand to cool and preserve agricultural goods. Prior to ice manufacturing, states along the east coast of the United States relied on harvested ice from frozen lakes and ponds shipped from New England. Many southern states during the 1860s began relying on ice manufacturing once the shipment of harvested ice from the northern states ceased. During the late-1800s, individual ice factories were comprised of a machine room, boiler room, ice store, loading platforms, and other office space. Large cans were used to mold the ice. When ice was needed, workers would operate a crane system to carry the ice block into a warm water bath where the ice could be removed from the reusable can.
Source
Original newspaper article by Joe Hendricks: "Icehouse controversy melts into compliance."
The Sanford Herald
, October 24, 2007.
Publisher
Date Copyrighted
2007-10-24
Has Format
Photopy of original newspaper article by Joe Hendricks: "Icehouse controversy melts into compliance."
The Sanford Herald
, October 24, 2007: Ice Collection,
Sanford Museum
, Sanford, Florida.
Is Format Of
Digital reproduction of photopied newspaper article by Joe Hendricks: "Icehouse controversy melts into compliance."
The Sanford Herald
, October 24, 2007.
Medium
1 newspaper article
Coverage
Sanford, Florida
Spatial Coverage
28.801029, -81.274587
Temporal Coverage
1952-01-01/2007-10-24
Audience Education Level
SS.K.A.1.2; SS.K.E.1.1; SS.K.G.2.1; SS.1.A.1.1; SS.1.A.2.2; SS.1.E.1.4; SS.1.G.1.5; SS.2.A.1.1; SS.2.G.1.2; SS.3.A.1.1; SS.3.G.1.1; SS.4.A.1.1; SS.4.E.1.2; SS.5.A.1.1; SS.5.G.1.4; SS.6.W.1.3; SS.7.C.3.9; SS.7.C.3.14; SS.7.G.2.3; SS.8.A.1.2; SS.8.A.1.5; SS.8.G.4.4; SS.912.A.1.1; SS.912.A.1.4; SS.912.A.1.6; SS.912.A.6.15; SS.912.A.7.12; SS.912.A.7.17; SS.912.G.1.4; SS.912.G.2.1; SS.912.W.1.3; SS.912.W.1.6
Mediator
History Teacher
Civics/Government Teacher
Economics Teacher
Geography Teacher
Contributing Project
Digital Collection
Source Repository
External Reference
Roen, Sara. "Ice House Is A Hot Business In Sanford." The Orlando Sentinel, June 16, 1985. http://articles.orlandosentinel.com/1985-06-16/news/0310010244_1_lots-of-ice-hunter-ice-house.
Wallis-Tayler, Alexander James. Refrigeration, Cold Storage and Ice-making: A Pratical Treatise on the Art and Science of Refrigeration. London: Crosby Lockwood and Son, 1902.
Hiles, Theron L. The Ice Crop, How to Harvest, Store, Ship and Use Ice: A Complete Practical Treatise for Farmers, Dairymen, Ice Dealers, Produce Shippers, Meat Packers, Cold Storers and All Interested in Ice Houses, Cold Storage and the Handling or Use of Ice in Any Way. New York: Orange Judd Company, 1893.
Weightman, Gavin. The Frozen-Water Trade: A True Story. New York: Hyperion, 2003.
External Reference Title
Transcript
Icehouse controversy melts into compliance
By Joe Hendricks
Herald Staff

SANFORD — The lengthy battle between the City of Sanford and John McFarland, owner of the old icehouse on 13th Street; is over.
While giving a status report during Monday's City Commission meeting, City Manager Sherman Yehl and Building Official Dan Florian informed commissioners that the building and its plumbing and electrical systems are now in compliance with city building codes as deter¬mined by a final inspection that took place last week.
Bringing the building into compliance ends the city's efforts to condemn the historic building built in 1952. When the building fell into a state of disrepair, and little was done to stave off its deterioration, some in the community and on the commission argued that the building had become an "eye¬sore" and condemnation proceedings were started.
McFarland and his attorneys then argued that he should be given the opportunity to bring the building up to code so he could sell the property with the building intact, thus increasing its resale value in the owner's opinion.
According to the county tax appraiser's office, Web site, the building and property had a taxable value of $182,000 when last appraised — although McFarland believes its value to be much higher.
As he left City Hall Monday night, accompanied by his wife, Sherry, a relieved McFarland said, "I'm glad it's over. This is my 401K and I need it to retire."
Tuesday morning McFarland said, "It was a tough fight, but we saved the ice house," pointing out that he spent a good chunk of his own money to bring the building back into compliance.
McFarland said he planned to meet with a real estate agent later in the day to begin the process of putting the property up for sale.
The icehouse building is zoned GC-2 (General Commercial). Dan Florian stated Monday night that before any use of the building is allowed, additional site and building improvements may be necessary depending on what uses are proposed.

Document Item Type Metadata
Original Format
1 newspaper article
Files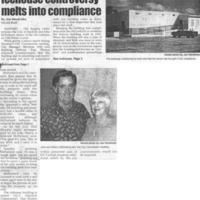 Collection
Citation
Hendricks, Joe. "Ice House Controversy Melts Into Compliance." RICHES of Central Florida accessed February 8, 2023, https://richesmi.cah.ucf.edu/omeka/items/show/607.
Categories
Transcribe This Item