Sanford Light and Fuel Company, Sanford Ice and Water Company, Crystal Ice Company
Files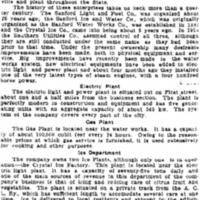 Dublin Core
Title
Sanford Light and Fuel Company, Sanford Ice and Water Company, Crystal Ice Company
Alternative Title
Sanford Ice Houses
Subject
Sanford (Fla.)
Ice industry--United States
Water
Electricity
Gas Industry--United States
Description
Newspaper article on the Sanford's three major utility companies: Sanford Light and Fuel Company, Sanford Ice and Water Company, and Crystal Ice Company. The latter two were ice plants, which manufactured ice that was used for shipping produce in refrigerated box cars. Ice manufacturing became a prominent industry in the United States by the beginning of the twentieth century. Most ice houses consisted of two stories with the first floor used as food storage and the second floor used to store the ice. Ice houses provided blocks of ice for home ice boxes and allowed agricultural businesses to transport their fruits and vegetables in refrigerated vehicles.
Source
Original newspaper article.
Date Created
ca. 1870-1930
Is Format Of
Digital reproduction of photocopied newspaper article.
Medium
1 newspaper article
Coverage
Sanford, Florida
Spatial Coverage
28.811574, -81.266676
Temporal Coverage
1887-01-01/1930-12-31
Audience Education Level
SS.K.A.1.2; SS.1.A.1.1; SS.1.A.2.2; SS.1.E.1.3; SS.1.E.1.4; SS.1.G.1.5; SS.2.A.1.1; SS.2.G.1.2; SS.3.A.1.1; SS.4.A.1.1; SS.4.A.5.2; SS.4.A.6.1; SS.4.A.7.2; SS.4.E.1.2; SS.5.A.1.1; SS.6.W.1.3; SS.7.G.2.3; SS.8.A.1.5; SS.8.A.4.5; SS.8.A.4.6; SS.8.A.5.7; SS.8.G.4.4; SS.912.A.1.1; SS.912.A.3.1; SS.912.A.3.2; SS.912.A.3.4; SS.912.A.4.11; SS.912.A.5.4; SS.912.A.5.11; SS.912.A.5.12; SS.912.E.1.1; SS.912.E.1.3; SS.912.E.2.12; SS.912.G.2.1; SS.912.W.1.3; SS.912.W.1.6; SS.912.W.6.1; SS.912.W.6.2; SS.912.W.7.4
Mediator
History Teacher
Economics Teacher
Geography Teacher
Contributing Project
Digital Collection
Source Repository
External Reference
Carlson, Charlie C. When Celery Was King. Sanford, Florida: Sanford Historical Society, 2000.
Hiles, Theron L. The Ice Crop, How to Harvest, Store, Ship and Use Ice: A Complete Practical Treatise for Farmers, Dairymen, Ice Dealers, Produce Shippers, Meat Packers, Cold Storers, and All Interested in Ice Houses, Cold Storage and the Handling or Use of Ice in Any Way. New York: Orange Judd Company, 1893.
Wallis-Tayler, Alexander James. Refrigeration, Cold Storage and Ice-making: A Practical Treatise on the Art and Science of Refrigeration. London: Crosby Lockwood and Son, 1902.
Sanford Historical Society, Inc. Sanford. Charleston, South Carolina: Arcadia Publishing, 2003.
External Reference Title
Transcript
SANFORD LIGHT AND FUEL COMPANY, SANFORD ICE AND WATER COMPANY, CRYSTAL ICE COMPANY.

Public Utility Enterprise Supplying the City and Local Residents Electricity, Gas, Water and Ice

Three institutions that enter directly into the smooth workings of almost every business house as well as a majority of the homes of Sanford, are the Sanford Light and Fuel Co., Sanford Ice and Water Co., and the Crystal Ice Co., the parent company of which is The Southern Utilities Company, who maintain headquarters at Jackson-ville and plant throughout the State.
The history or these enterprises take us back more than a quarter century. The Sanford Light and Fuel Co. was organized about 26 years ago; the Sanford Ice and Water Co., which was originally organized as the Sanford Water Works Co., was established in 1887[?] and the Crystal Ice Co., came into being about 8 years ago, In 1911[?] the Southern Utilities Co., assumed control of all three, although they are still conducted under the same name as they had been prior to that time. Under the present ownership many desirable improvements have been made, both in physical equipment and service. Big improvements have recently been made in the water works system, new electrical equipments have been added to electric light and power plant and about four months ago they installed one of the very latest types of steam engines, with a four hundred horse power.

Electric Plant
The electric light and power plant is situated out on First street about one and a half miles from the business section. The plant is perfectly modern in construction and equipment and has five generating units with an aggregate capacity of about 50 kw. The system of the company covers every part of the city.

Gas Plant
The Gas Plant is located near the water works. It has a capacity of about 100,000 cubit feet every 24 hours. Owing to the reasonable price at which gas service is furnished, it is used extensively for cooking and other purposes.

Ice Department
The company owns two Ice Plants, although only one is in operation—the Crystal Ice Factory. This plant is located near the electric light plant. It has a capacity of seventy-five tons daily and one of the main sources of revenue in this department of the company's business is that of icing and re-icing cars of citrus fruit and vegetables. The plant is situated on a private track from the A. C. L. Ry., which has sufficient length to accomodate several cars at one time. Ice is delivered to local residents and shipped to the adjoining towns and villages. The product of the company is a pure artificial ice as it is possible to produce, their service is unexcelled anywhere and prices are such that any families can afford ice, summer or winter.

Water Works
The source of Sanford's water supply is a system of deep wells. The supply is unlimited and it has been shown by analysis that it is pure, wholesome and healthful. They maintain a reservoir with a capacity of 120,000 gallons also a 80,000 gallon tank which is mounted on a steel tower.

Document Item Type Metadata
Original Format
1 newspaper article
Collection
Citation
"Sanford Light and Fuel Company, Sanford Ice and Water Company, Crystal Ice Company." RICHES of Central Florida accessed December 5, 2023, https://richesmi.cah.ucf.edu/omeka/items/show/615.
Categories
Transcribe This Item