Westinghouse Electric Corporation Power Generation Business Unit
Files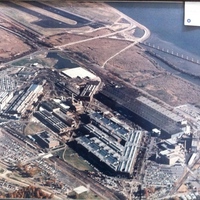 Dublin Core
Title
Westinghouse Electric Corporation Power Generation Business Unit
Alternative Title
Westinghouse Power Generation Business Unit
Subject
Westinghouse Electric Corporation
Description
Westinghouse Electric Corporation's Power Generation Business Unit (PGBU) in Lester, Pennsylvania. The plant seen in this aerial photograph first opened operations around 1890. It included a foundry and forging shop, a steam turbine blade shop, a turbine diaphragm shop, several heavy and light machine shops, a steam turbine assembly (or erecting) shop, a gas turbine manufacturing shop, rotating test facility and development laboratory, various other laboratories, an on-site power house, sewage disposal system and fire department, the offices and manufacturing facilities of the Heat Transfer Division, as well as the office facilities housing the Steam Turbine and Gas Turbine Divisions. During the late 1960s and early 1970s, some of the steam turbine manufacturing facilities located at the Lester plant were closed and replaced with new plants built in Charlotte and Winston-Salem, North Carolina. Over the period of 1980 to 1983, non-manufacturing personnel of the Steam Turbine Division were relocated to new headquarters in Orlando, Florida. In 1985 all gas turbine manufacturing was transferred to Westinghouse Canada, in Hamilton, Ontario, and also contracted out to Mitsubishi Heavy Industries (MHI) of Japan.  The Lester plant was closed in 1986, almost 100 years after it started operation. During World War II, the Lester plant was converted to supplying heavy military equipment for the war effort.  It is believed that the peak employment level at the site was on the order of 15,000.

Originally called the Westinghouse Electric Company, George Westinghouse (1846-1914) founded his manufacturing company in Pittsburgh, Pennsylvania, on January 8, 1886. In 1889, he renamed his business The Westinghouse Electric and Manufacturing Company. Westinghouse's primary products include turbines, generators, motors and switchgear related to the generation, transmission, and use of electricity. The company changed its name to Westinghouse Electric Corporation in 1945. In 1981, the company began to relocate its division headquarters for the Steam-Turbine Generator Divisions from Pennsylvania (turbines from Lester and generators from Pittsburgh) to Orlando, Florida. The Power Generation Business Unit (PGBU) building was located in The Quadrangle, at 4400 Alafaya Trail. Originally, Westinghouse had purchased a large plot of land for future development that extended westward from Alafaya Trail to Rouse Road. The original headquarters was located on several acres of that land parcel close to Alafaya Trail.

In 1994, after a major corporate management shuffling, and a top-level decision to change from an industrial manufacturing company to primarily a broadcasting/communications company, Westinghouse bought the CBS Network and changed its name to the CBS Corporation. As the PGBU grew in size, other buildings in the area were leased and then, after PGBU was sold to Siemens Corporation of Germany in 1998, additional buildings (Quad II and Quad III) were added to the original complex at the Quadrangle. From 1998 to 2003 the Orlando operation was known as Siemens-Westinghouse, after which the name of Westinghouse was dropped. The operation has been known as Siemens from that time forward.
Source
Original color photograph.
Date Created
ca. 1940-1981
Is Format Of
Digital reproduction of original color photograph.
Medium
1 color photograph
Coverage
Westinghouse Electric Corporation Power Generation Business Headquarters, Lester, Pennsylvania
Mediator
History Teacher
Geography Teacher
Curator
Jaeger, Harry
Cepero, Laura
Digital Collection
External Reference
Still Image Item Type Metadata
Original Format
1 color photograph
Collection
Citation
"Westinghouse Electric Corporation Power Generation Business Unit." RICHES of Central Florida accessed October 4, 2023, https://richesmi.cah.ucf.edu/omeka/items/show/6184.
Categories
Transcribe This Item