Maitland from the Air
Dublin Core
Title
Maitland from the Air
Alternative Title
Maitland from the Air - and Other Views
Description
This one-page, fold-out aerial map of Maitland, Florida, contains no dates or publication information, but was most likely published in 1925 or 1926. In addition to the aerial photograph, this item also contains several regular photographs that feature houses, residents, and lakes, as well as three paragraphs of text which note the town's lakes, citrus groves, railways, highways, and business section.
Date Created
ca. 1925-1926
Is Format Of
Digital reproduction of original map.
Requires
Coverage
Maitland, Florida
Mediator
History Teacher
Economics Teacher
Geography Teacher
Digital Collection
Source Repository
External Reference
Poole, Leslie Kemp.
Maitland
. Mount Pleasant, SC: Arcadia Pub, 2009.
"
Maitland History
." City of Maitland. http://www.itsmymaitland.com/maitland_history.asp.
Transcript
Maitland from the Air and Other Views
(Airmap Scale Approximately 1,200 Feet to the Inch)

THE views on this page are representative of the business, residential and recreational features
of Maitland, one of Orange County's most desirable small towns and one of Orlando's finest
residential suburbs. Attention is directed especially to the airmap [sic] which shows topographical
features of extraordinary interest. The eighteen lakes shown, which lie almost entirely within
the corporate limits, are basin lakes with high sand shores and crystal clear water. One can see the large
acreage of citrus groves, in many of which the trees can be actually counted with the aid of a reading glass.

The Atlantic Coast Line Railroad may be easily traced from Lake Seminary to Lake Gem in the
south. The business area lies between Lakes Sybelia and Minnehaha, and many beautiful oak-shaded
streets may be distinguished. The highway divides the town, from Lake Faith in the north to Lily Lake in
the south, where it joins State Highway Number 3, the Black Bear Trail, leading on to Orlando and St.
Petersburg. The latter highway, now under construction, and not defined on this map, comes in from
Sanford and Jacksonville, between Lake Seminary and Lake of the Woods, thence to the left of Lake
Minnehaha to its junction with the present road at Lily Lake. This is the first highway in Orange County to have a 200-foot right-of-way. It is interesting also to note the Street and lake scenes below showing the tropical settings, big shade trees and abundant verdure. Public school and library buildings as well as the stores and other public buildings are sub-stantial yet artistic, while the private dwellings and estates are finely adapted to the wonderful setting that nature has provided.
Lake Charity, Lake Hope, Lake Faith, Lake. Seminary, Lake of the Woods, Lake Lucas [?], Lake Sybelia, Lake Minnehaha, Lk. Miller, Lake Catherine, Lake Lily, Lk. [illegible], Lake Maitland, Lk. [illegible], Park [?] Lake, Lake Gem

Still Image Item Type Metadata
Files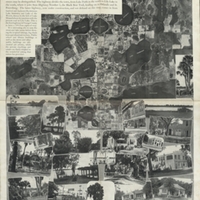 Collection
Citation
"Maitland from the Air." RICHES of Central Florida accessed July 7, 2022, https://richesmi.cah.ucf.edu/omeka/items/show/6482.
Categories
Transcribe This Item