Belair Lodge
Dublin Core
Alternative Title
Belair Lodge
Subject
Lake Mary (Fla.)
Sanford, Henry S. (Henry Shelton), 1823-1891
Lodging-houses--United States
Houses
Description
The Belair home of Henry Sanford and family sometime before 1925. In 1870, Henry Shelton Sanford purchased 23 square acres of land known as the Sanford Grant. The acreage included an experiment station called Belair located just three miles southwest of the city named after Sanford. By 1889, Sanford extended his land purchase to 145 acres and contained mainly orange and lemon trees. In Belair alone, Sanford introduced over 140 varieties of citrus plants. All were tested to determine if Florida citrus growers could introduce new varieties into the growing citrus market. Sanford also grew exotic plants acquired from Central and South America, many of which survived the 1886 freeze. Sanford mainly used Belair as his own experiment station, but ultimately the findings and reports would be used by other citrus growers throughout Florida. Eventually, Sanford handed over the operations of Belair to Sydney and Joshua Chase. By 1912, the brothers established the Chase Investment Company. The lodge located at Belair was built in 1888 and was destroyed in a fire in 1925.
Abstract
Written on back of photograph, "Belair Lodge. Destroyed by fire in 1925. Built 1888."
Source
Original black and white photograph by Chase & Company: Chase Collection (MS 14), box 211, folder 3.3A,
Special and Area Studies Collections
, George A. Smathers Libraries, University of Florida, Gainesville, Florida.
Date Created
ca. 1888-1925
Is Format Of
Digital reproduction of original black and white photograph by Chase & Company.
Medium
1 black and white photograph
Coverage
Lake Mary, Florida
Spatial Coverage
28.779371, -81.301996
Temporal Coverage
1888-01-01/1925-12-31
Mediator
History Teacher
Geography Teacher
Provenance
Entire
Chase Collection
is comprised of four separate accessions from various donors, including Cecilia Johnson, the granddaughter of Joshua Coffin Chase and the children of Randall Chase.
Rights Holder
The displayed collection item is housed at
Special and Area Studies Collections
at the University of Florida in Gainesville, Florida. Rights to this item belong to the said institution, and therefore inquiries about the item should be directed there.
RICHES of Central Florida
has obtained permission from Special and Area Studies Collections at the University of Florida to display this item for educational purposes only.
Digital Collection
External Reference
Westgate, Philip J., and R. Bruce Ledin. "Belair Groves, Sanford, Pioneer in Sub-Tropical Horticultural Introductions." Florida State Horticultural Society 66 (1953): 184-187.
Some Account of Belair, Also of the City of Sanford Florida, With a Brief Sketch of Their Founder. Sanford, Florida: 1889.
Fry, Joseph A. Henry S. Sanford: Diplomacy and Business in Nineteenth-Century America. Reno, NV: University of Nevada Press, 1982.
Molloy, Leo T. Henry Shelton Sanford (1823-1891). Derby, CT: Valley Historical Research Committee, 2009.
Sanford Historical Society, Inc. Images of America: Sanford. Charleston, SC: Arcadia Publishing, 2003.
External Reference Title
Transcript
"Bellair" near Sanford Fla.
Still Image Item Type Metadata
Original Format
1 black and white photograph
Files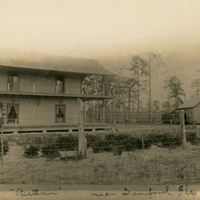 Collection
Citation
Chase & Company. "Belair Lodge." RICHES of Central Florida accessed March 27, 2023, https://richesmi.cah.ucf.edu/omeka/items/show/692.
Categories
Transcribe This Item